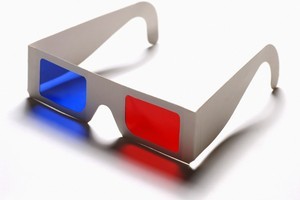 3D CHINA: China Central Television is launching a 3D TV channel as a trial. Viewers with 3D sets and high definition digital TV set-top boxes can watch their service. 3D channels are already available in Japan, South Korea and India. I'm surprised there's enough 3D content to actually fill a channel. BBC has more.
GO SOLO: The Solowheel is a gyro stabilised, electric unicycle about the size of a briefcase. It's powered by a lithium-ion battery, and has fold out footpegs. Step on and travel 25 to 30km at 16km/h over rough pavement. When you arrive fold it up and carry it with you. That'd be very handy for those who commute by train. More details at Solowheel and there's video here.
WILL FLY FOR OIL: We hear a lot about military uses for drones, but the Aeryon Scout micro unmanned aerial vehicle, based in Nome, Alaska, has been proving its worth to citizens. The drone flies on 20-minute missions from the beach in Nome and sends back images of ice in the Bering Sea.
Why? To help a tanker carrying much-needed oil to find its way as close to Nome as possible then lay out a 1.6 Km hose back to shore. Sounds like every city and town should have its own drone.
The Anchorage Daily News has more here.
WHALERCOASTER: Whales are tricky to track because they swim deep under the sea for much of the time. US researchers have been radio-tagging whales with sensors to record the orientation, depth and speed of whales as they swim. Eventually the tags fall off, surface and send back their data. The Track Plot software from a computer scientist at the University of New Hampshire in Durham displays the data in video animations. The data helps researchers understand the behaviour of whales. The video shows a path that would make a pretty good rollercoaster ride. ScienceMag has more, and there's video here.
FAMILY FINDER: In a crisis aid workers have a lot to do very quickly.
Researchers from The University of Manchester in the UK, created software to quickly and accurately locate missing people and to point people towards safe zones, all using mobile phones. The Where's Safe app replies to an SMS with info about safe areas. The REUNITE software and web app accepts phone recordings by aid workers of people separated from their families. These are uploaded to a website, transcribed and used to help find displaced people. Info can then be sent back to the aid worker's phone. Crowdsourcing, crisis and cellphones: a great combination. Details at the .
University of Manchester.
- Miraz Jordan knowit.co.nz