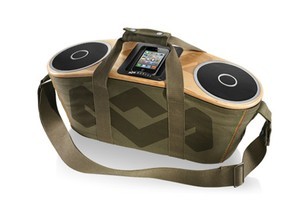 Another surprise find amidst the chaos and carnage at this year's Consumer Electornics Show was the House of Marley, the reggae brand inspired by Bob Marley.
The brand showcased some stunning audio gear made from environmentally friendly and sustainable materials like Forest Stewardship Council (FSC) approved wood, hemp and canvas, recyclable aluminium and thermo plastic.
The House of Marley have released 52 styles of reggae inspired headphones, and some pretty stylish iPod docks.
While there were literally too many headphones to list, the models I tested were crafted out of aluminium, wood and cotton, and looked as good as they sounded (firing up some Tiki Tane delivered some seriously sweet beats and the over ear cans had acres of oonst to deliver warm and silky smooth basslines.
Marley was also one of the few vendors I chatted with who have already have established a presence in New Zealand and say that several All Blacks (including Tana Umaga) and musos (Katchafire and the Blackseeds) are already using their gear.
Several products on display immediately grabbed me. First cab off the Marley rank was the Get Up Stand Up docking station, which not only looks utterly stunning, being made from a curved solid piece of FSC-certified wood but can be hooked up to an iPad, iPhone and an iPod Touch.
It comes with two miniplug aux-in connections for plugging in other audio gear) and has two 4.5-inch drivers pus a long-throw woofer and two 1-inch dome tweeters. It is expected to launch in the US at around US$299.99 in February.
The Marley Bag of Rhythm dock also stunned me - literally a canvas bag with its own batteries that allows you to take music with you on the go.
The Marley Bag of Rhythm dock is crafted from environmentally FSC-certified wood and comes in a bag made of cotton.
It comes with an Apple docking station, two 4.5-inch drivers, long-throw woofer and two 1-inch dome tweeters. It retails for US$349.99. Taking the Marley Bag of Rhythm out to a BBQ just makes sense.
What really grabbed my attention though was the different thinking at Marley.
Rather than being some corporate fat cat knocking out Bob Marley gear, Marley are very uncorporate and the whole emphasis on sustainable and recyclable materials was a pleasant chance, as was the fact that they donate Five per cent of their profits to charity.