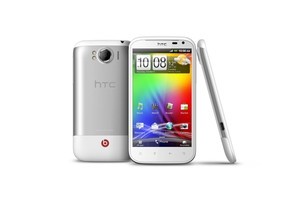 Size matters when it comes to smartphones, and judging by the Sensation XL, Taiwanese device maker HTC thinks big is better.
The Sensation XL is one sizeable slab, measuring 132.5 by 70.7 mm and dwarfs other smartphones such as the iPhone 4S that is a mere 115.2 by 58.6 mm in size.
It's not a particularly thick phone, however, at 9.7mm and the weight isn't that porky at 162 grams. Some of the added weight comes from aluminium back that provides a solid feel to the Sensation XL; this is a premium smartphone, as evidenced by the high $1,049 price for the handset alone that Vodafone charges.
At first, I thought the Sensation XL would be clumsy to use and inconvenient to carry around due to the large size but the phone grew on me - not literally, as it wouldn't fit into my pocket if it was any larger.
If you have large hands like I do, smartphones with small screens can be a pain to drive as your fingers, for instance, cover multiple keys when typing.
No such problems with the Sensation XL where you have ample finger space on the 4.7" Super LCD with 480 by 800 pixel resolution.
The screen itself is nice and bright, even though it doesn't have the super-high resolution such as those found in other premium mobiles. Also, the screen does tend to wash out in sunlight.
Google's Android operating system in the latest variant runs on the Sensation XL, which has a single-core 1.5GHz processor and 768MB of RAM. Again, this isn't top-of-the range specifications, but the Sensation XL felt very responsive and fast.
Multi-tasking between web browsing and social media apps is quick and the phone handles traditional comms tasks such as calls and SMS/MMS well too.
People wanting to switch networks should note that the Sensation XL supports both Vodafone and Telecom XT 3G. I tried it on Vodafone's network, and got almost 8Mbps downloads and 2Mbps uploads under good conditions. HTC has made it easy to use the Sensation XL as a Wi-Fi hotspot and USB modem, and both of these features work very well with secure encryption for the former.
Despite the large screen and the 1.5GHz processor, the 1,600mAh battery keeps the Sensation XL going for a day and a half between charges during normal usage, which is very good. Watch video and use the rather good 8MP camera with dual-LED flash that captures 720p HD video a lot, and you'll have to plug the Sensation XL into a USB charger after six to seven hours though.
HTC supplies its Android phones with the custom Sense interface that some people like, others don't. In my opinion, HTC Sense is one of the better custom Android interfaces. With a range of good apps, such as voice navigation and commands, email and more, the HTC Sense is a great add-on.
Bar the big size, what sets the Sensation XL apart from the competition is the enhanced audio, courtesy of Monster Beats Audio electronics and the distinctive urBeats in-ear headset with a bright red cord and five different size buds to ensure a tight fit to your ear for best sound.
Rapper Dr Dre was apparently involved in designing the urBeats buds and whatever he did works as advertised. When the Beats Audio electronics kick in, the urBeats provide punchy bass and good definition for vocals. The sound set up is oriented towards bass-heavy music such as hip hop so classical and acoustic music end being a bit too boomy to be good.
I particularly liked having the Beats Audio enhancement with videos and you notice when it's not there - the feature only works with the HTC audio and video players.
Considering the Sensation XL is a mean mobile multimedia machine, HTC made a strange design decision for it: it comes with a relatively small amount of memory that's not expandable with Micro SD cards.
Of the 16GB on the phone, you have access to just 8.89GB; this in turn is split into roughly half each for music, video and pictures and apps which isn't a great deal of space.
The Sensation XL is a decent performer with the Beats Audio being a great feature if you're into music. However, it really should come with either more or expandable memory, and the price is on the high side.
HTC Sensation XL
$1099 (handset only)
Pros
Beats Audio and urBeats earphones
Snappy performance
Big size good for large hands
Good build quality and user interface customisations
Decent battery life
Cons
Memory capacity on the low side
Price could be lower.