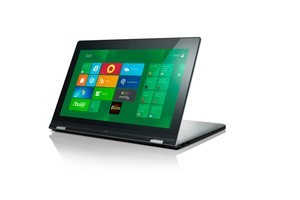 The buzz at CES around ultrabooks was huge - but outshone by a very clever touchscreen version from Lenovo. The bendy Yoga fits into Intel's ultrabook spec set, but sports a multitouch panel that's capable of tracking all of your fingers (and thumbs).
Windows 8
While I've been less than complimentary about Windows 8 in the past, actually spending some hands on time with it could see this journalist eating his words - it felt great to use and nowhere near as ugly as the initial Microsoft publicity would have you believe.
Look and feel
My first impressions of the Yoga was that it was a fairly standard Lenovo ultrabook, that was until I saw its party trick, which saw the Yoga's screen folding all the way back on itself to convert into Windows 8 tablet. Folding a notebook PC screen all the way back felt plain wrong and I was waiting to hear the sound of snapping plastic but as a tablet the Yoga felt great in hand and was very light to carry.
Under the Hood
As a notebook the Yoga is pretty much a text book version of Intel's ultrabook specification in that it is sub-18mm thick, featherlight, and has an Intel Core CPU, and can take up to 8GB of RAM.
In Use
In the limited time I had to play with the Yoga I was impressed by its responsiveness and just how smoothly the Windows 8 UI was in use. Having fully capable multitouch was pretty nifty and using the bundled paint app I was able to see in real time just how snappy the Yoga was.
Verdict
The Yoga may be some time off and it isn't likely to hit NZ until after the Windows 8 launch, but it could finally see Lenovo shake off their image as the designer of notebooks that only Darth Vader's mum could love as the Yoga is a pretty slinky piece of hardware. If, like me, you find using onscreen keyboards an exercise in frustration, being able to have the best of both tablet and notebook worlds could potentially be a winning combination. Additionally, if the Yoga adheres to Intel's ultrabook spec, then its usability, versatility and 5-6 hour battery life could see it being a real winner.