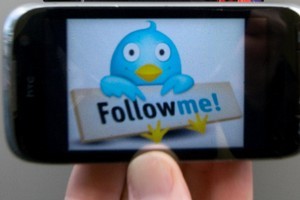 Twitter has shut down a scam appealing to people's paranoia.
It involves direct messages to members asking "have you seen what this person is saying about you?" followed by a link to an internet page.
They purport to be from genuine users of the social networking phenomenon - including TV3 reporter Tony Reid, in whose name a message was sent this morning.
Reid has since sent a message to followers saying he felt "violated" by the use of his identity.
He wrote: "I've been hacked or spammed or something.... please ignore all direct messages from me...."
Twitter has shut down the scam and people who click on the link are told the website has been reported as "unsafe".
Reid is not the only victim. Another Twitter user, Jason Shim, said anyone who clicked on the link would leave their followers open to a similar approach.
Ministry of Consumer Affairs spokesman Alastair Stewart said Twitter scams generally involve a 'free' product, a link to a hilarious or shocking video or a website containing embarrassing or demeaning content about people.
"They appear to be recommended by a friend, but are an attempt to scam you into giving your personal details."
He said people who clicked on the link were often required to give scammers access to their social networking accounts.
"Doing so will see the same link shared with your followers, allowing the scams to flourish."
The website is likely to be an attempt to get personal details or install unwanted software on your computer, he said.
Mr Stewart said such details could be used in identity fraud and anyone who has clicked on the scam link should protect their friends by deleting any posts about it on their Twitter feed.
- APNZ