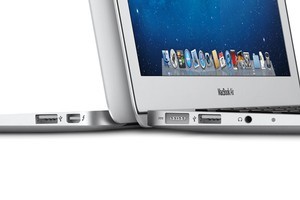 In my last blog, I speculated on what Apple might or might not do with the Mac Pro, which led to some interesting comments from some of our professionals.
But what else might happen in 2012? Apple has just announced an 'Event' for January 19th (this Friday for us) at New York City's Guggenheim Museum. Which is a little odd for the Californian company.
Apple will announce new innovations relating to education. I worked this out from reading the invite (no, I didn't get one). It says "Join us for an education announcement in the Big Apple". Electronic textbooks? New education version of Macs? Education iPad initiatives? Who knows? But speculation is rife on what the announcement might actually involve.
Meanwhile, Apple's real, potential or fantastical future TV is keeping the rumour mill grinding. Apple did not, as usual, show at CES (the Consumer Electronics Show) in Las Vegas but it may as well have.
Despite not being there, as usual, Apple's presence is felt.
The Cupertino tech giant is influencing the smartphone and gadget exhibits and even video vendors.
There are dramatic developments in the video sector on show, including slim OLED designs and ultra high-resolution displays that easily surpass current 1080p, yet most of the show talk surrounds Apple's rumoured entry into the TV market.
Brian White, analyst with Ticonderoga Securities, told investors Japanese-based Sharp will provide displays for Apple televisions. White made the claim after speaking with industry insiders.
The US Mac fan/info site Cult of Mac had people at the show. Whatever might be happening, they certainly know better than me.

But what about new Macs? I mean, could Apple drop the Pro but put out a ruggedised, expandable 'iMac Pro'?
But finally there has been some substantial movement with Thunderbolt accessories - I say 'finally' because Apple put the port in Macs nearly a year ago.
At CES, Sonnet showed the new Echo ExpressCard /34 Thunderbolt Adapter, which adds FireWire ports or an eSATA interface through a single Thunderbolt device.
The card adapter allows you to choose your connections and add more to your setup. It supports hot-swapping, so you can select and change the ExpressCard to use as needed, and it supports most Sonnet ExpressCard/34 cards (with a PCI Express interface), with FireWire interfaces, CompactFlash and SDXC card readers all available, plus certain eSATA controllers. It also will support most specialty bus-interface products like the interface adapter for AJA ioExpress.
Sonnet products are available in New Zealand via MacSense, although I haven't heard of NZ availability yet.
Elgato showed a new Thunderbolt SSD compact enough to fit in a back pocket. The solid state drive draws power from Macs directly through the Thunderbolt port, and the US$430 external drive should be available in February.
Peripheral maker LaCie unveiled two new Thunderbolt products; a professional two-bay RAID server aimed at photo and video editors; and the eSATA Hub Thunderbolt Series, designed to let Thunderbolt-equipped Macs connect to external hard drives with top data-transfer speeds. The new products hit the market "in the first quarter of 2012."
Blackmagic Design's Intensity Shuttle is a video capture box with HDMI, analogue component, composite and S-Video inputs and outputs. It also has support for SD and HD compressed and uncompressed 10-bit video capture and playback. The US$239 device should be available in the first quarter.
OCZ Technology has been showing off a Lightfoot external hard drive which is Thunderbolt-compatible, but details are scarce.
And Belkin showed off a new US$299 Thunderbolt Express Dock, which includes three USB2 ports, a FireWire 800 port, one HDMI port, one 3.5mm audio port, a gigabit Ethernet port and two Thunderbolt ports for daisy-chaining to other Thunderbolt devices.
But it won't be be available until September. Meanwhile, it's still bad times for the PC market. IDC released its quarterly market share report for the last three months of 2011 on Wednesday and PC sales in the US just tanked during a really rough northern holiday quarter.
But Apple, once again, did fine, selling a little over two million Macs between October and the end of December. That's 18 per cent more than the roughly 1.7 million Macs the company sold during the same quarter a year ago, according to IDC. That's yer actual growth, and has put Apple's US market share at 10.92 per cent.
And if you listen to the haters, Apple's growth is because people are stupid and buy 'overpriced' Macs as fashion statements.
To me, this assertion has never sounded so vacuous as it does now, in the midst of this long and worldwide recession.
But as GigaOm points out, even though the latest figures put Apple at number three in the US market, Apple still doesn't register in the top five of the largest PC makers worldwide.
That said, HP - the perennial leader - declined 15 per cent in global PC shipments to barely keep ahead of Lenovo, the only real bright spot in the figures besides Apple. HP of course was dealing with the after effects of announcing, then reconsidering, a decision to stop selling PCs in mid-2011. That was corporate craziness on a grand scale, not?
Analysts Gartner roughly agreed with IDC's assessments, noting a 1.4 per cent decline for the quarter in worldwide PC shipments, but with a fillip to the good in a .5 per cent growth over the full year. Gartner cited "continuously low" demand for PCs as a reason for the disappointing final quarter of 2011, as well as economic uncertainty in Western Europe and North America.
Gartner's Mikako Kitagawa warned that though the HDD shortage (caused by the South-Asian floods) had a "limited impact" on the fourth quarter's PC shipments, she thinks its effects will linger into 2012.

Kitagawa also talked about ultrabooks, an attempt to challenge the hegemony the iPad created for itself. "Ultrabooks were quietly introduced into the market during the 4Q11 holiday season," Ms Kitagawa said.
But "Ultrabooks didn't seem to draw consumers' attention. Consumers had very little understanding and awareness of ultrabooks, and only a small group of consumers was willing to pay the price premium for such models."
But last week's CES was the real debut stage for ultrabooks, and that's right now, so I guess we'll see.
But I imagine they'll have as much success as netbooks - almost none, once the iPad appeared, and a new model seems to be not that far away. There are strengthening rumours of an iPad 3, perhaps even with a quad-core processor, appearing in May or thereafter.
Adam Engst of TidBits reckons iPad 3 will have Siri, a higher-resolution display, better cameras, a faster CPU, and more RAM. iPhone 5 is also expected, and rumours of an entirely new case (unlike the 4S) with a new industrial design have been going around for months already. The 5 might also employ 4G LTE connectivity, better cameras, a faster CPU, and more RAM.
But there's more - Macworld published a roundup of the pundits' Apple ideas for 2012, including the aforementioned Engst and John Gruber, who I interviewed last year at Webstock in Wellington.
Across the board, Apple has been doing great, with the firm's component manufacturers racking up good volumes.
But this could be an interesting year, with no Jobs.
- Mark Webster mac-nz.com