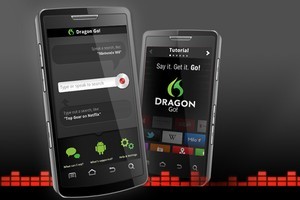 Not content with having already announced a strategic alliance with Intel, speech recognition player Nuance has launched a free version of its speech recognition system for Android, Dragon Go.
Capitalising on the buzz that Apple generated around its speech recognition-driven 'personal assistanct' Siri, Nuance hopes hoping to bring Android devices a step closer to parity with the iPhone 4S.
Dragon Go is available as a free download from the Android marketplace and tightly integrates speech with Google's freebie OS.
Dragon Go gives Android smartphone owners direct access to over 200 mobile online sites simply by using voice.
According to Nuance, the sites able to be navigated to using speech include AccuWeather, Ask.com, Bing, Dictionary.com, ESPN, Facebook, Fandango, Last.fm, LiveNation, Milo.com, OpenTable, Pandora ® Internet radio, Rotten Tomatoes, Spotify, Twitter, Wikipedia, Wolfram Alpha, Yelp, YouTube, Yahoo! and a bevy of other sites.
Dragon Go uses the same speech recognition engine as Dragon dictate voice application that has been used on PCs for years, and incorporates natural language understanding with artificial intelligence.
This allows the app to learn the particular quirks of each Android owner's speech but it should also play nice with Kiwi 'fush and chup' accents.
Interestingly, Dragon Go not only heard what I said to it, but it also appeared to understand context.
Asking my Galaxy SII "What's the best Thai food near me," instantly bought up Yelp browser local reviews in one tab. Nicer still, there was also a phone tab so I could quickly call whichever restaurant that took my fancy. Since I was walking, I was also able to quickly access Google maps to find my way there.
Having sorted out my dinner for the night, I was also able to check out which movies were showing by asking my phone " Show times for Girl with the Dragon Tattoo which took me to Fandango.com to see movie show times, buy tickets, read movie reviews or check out trailers.
Asking tough questions like "What is the formula for sulphur dioxide?" (a question I frequently need to the answer for) saw Dragon Go take me to Wolfram Alpha where the formula was stashed amongst the search engine's vast database.
So whilst many may ask "whats the big deal here? ", for me it was that Dragon Go eliminates the fiddling around to find relevant sites, information or applications, dramatically streamlining how I use my smartphone in the process.
Check out the app on Android Marketplace here.