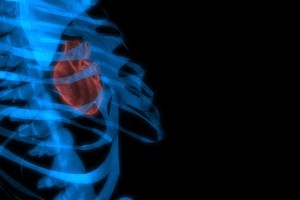 AIR SHOW: With 50,000 dots per second the new laser projection system from Keio University shows 3D images in mid-air. The system uses a green laser to excite oxygen and nitrogen, creating luminous points of light in air or underwater. The frame rate is a rather slow 10-15 fps, but they're working to increase it. By using red, green, and blue lasers they could create a colour image.
Using the air itself as a medium: very clever. DigInfo News. Video here.

WIRELESS HEART: A new Pacemaker from EBR Systems does away with wires. Instead it sends focused acoustic waves to a receiver the size of a grain of rice implanted inside the heart. The receiver converts the sound waves into electrical energy. The wireless cardiac stimulation system gets all its power and signals wirelessly via ultrasound from a small device implanted in the chest. No WiFi interference, then.
Technology Review.

IN THE WARMTH OF THE OAK TREE: To save power plant a tree — a Solar Botanic artificial tree, with green leaves, and designed to resemble real trees. The artificial trees harvest wind, sunlight and heat using Nanoleaves.
The leaves each generate only a tiny amount of electricity when they move in wind or in rain. With plenty of leaves, though, that energy mounts up. A tree resembling an oak could generate 7000kWh per year. The energy is stored in the tree trunk until needed by the nearby house. A fake oak tree in the garden sounds like a better deal than solar panels or a wind turbine. I want mine to be a Puka tree though.
Discovery News.

CARPORT: The Solar Tree from Envision is a very different kind of tree
— in fact, it's more of a roof. The structure is designed to shade vehicles from the sun while producing renewable energy to recharge up to 6 electric vehicles. Or get the smaller one that powers and protects a single vehicle. Or maybe just get solar panels installed on the roof of the car. Envision Solar.

SAILING ON: Four small robots are making their own way across the
Pacific from San Francisco to Japan and Australia, collecting data as they go. Each Wave Glider's about the size of a dolphin and is powered by the waves, while solar energy keeps the sensors going. The public will have access to all the data, including information about weather, water salinity and temperature. They should all have trees! Liquid Robotics. Video here.
Miraz Jordan, knowit.co.nz