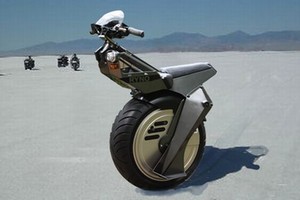 FRONT WHEEL MISSING: Take a look at the Ryno electric motorcycle and you may think someone's stolen the front wheel. They haven't though —  it's designed to have only one wheel. The unicycle has a range of 48km, and can run at up to 32km/h. The LiFePo4 battery that powers it can recharge in 1.5 hours. The turning radius can be as little as on-the-spot, but it may need up to 1 metre. The bike's on-board Auto Balance Systems continuously monitor for balance and take control if necessary to keep the bike upright. Finding parking would be simple too, I imagine. More details here and video here.
LONG RIDER: The 2012 machines from Zero Motorcycles pack more energy into their electric power packs to give them a range of almost 200km at up to 140km/h, and 3,000 complete charge cycles before the pack reduces to 80% of its original charge capacity. The bikes also include regenerative braking which extends range by recapturing energy into the battery pack when slowing.
Silent, fast and capable. Discovery has more.
WORLD OF YOUR OWN: Many planes these days provide you with your own entertainment screen, but you could go one better with Epson's Moverio BT-100 multimedia glasses. They let you watch what you please, but they're also transparent so you can keep an eye on the world around you. The glasses run on Android, have earbuds, WiFi, a 4GB SD card and internal memory, along with a trackpad for control. So it's like augmented reality with a split personality then. Details here.
HYPERCORDER: Monitoring the environment for contaminants and hazards can be a long and involved process occupying many hours in a lab. A new sensor from Tel Aviv University can do the work in real-time. The hyperspectral camera interprets reflected sunlight radiation that bounces off an object, material, or environment. Different chemical compounds reflect different colours  —  most of them invisible to the human eye, but visible to the new sensor. The hyperspectral camera could be used from a few centimetres or up to 800 km away, meaning it could be mounted on a plane, satellite or weather balloon. Tricorders? Toys. Details here.
CLIPBOARD PROTECTOR: The Ballistic Impact clipboard from Impact Armor Technologies is designed to protect law enforcement officers from bullets and stabbing. It withstands multiple shots from various guns and from knife attacks and blunt objects. Is this instead of bullet and stab-proof vests?  BusinessWire has more, and there's video here.
- Miraz Jordan knowit.co.nz