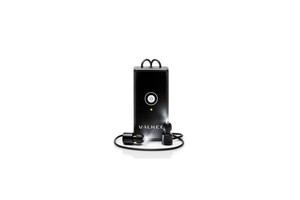 BRIGHT EARS: If winter really really gets you down perhaps you suffer from seasonal affective disorder. Finnish company Valkee Ltd claim their earbuds can help by shining bright light into your brain through your ears. Their clinical trials showed that 92% of the patients with seasonal affective disorder achieved full remission with doses of 12 minutes of light per day. Just hope the light doesn't come out the other side.
PR Newswire has more.
TB SPEEDTEST: Tuberculosis still kills nearly two million people each year, mainly in developing countries. Current tests are costly and slow, but researchers from the International Centre for Genetic Engineering and Biotechnology in New Delhi in India are developing an electronic nose. The $30 handheld unit is battery operated and works rather like a breathalyser.
A person blows into the device, then sensors pick up TB biomarkers and give an almost instant diagnosis. The low cost and ease of use should make it possible to catch more cases of TB in remote areas. Cheap, easy, effective: three winning characteristics.  Details at Yahoo News.
FLY BY WIRELESS: United Airlines will offer satellite-based, in-flight internet access on more than 300 aircraft flying worldwide, starting in 2012. Internet access will use the satellite-based Panasonic Avionics Ku-band system. UA plan to have equipped their whole fleet by 2015. But will it cost as much as the seat?  BBC.
SUCKED WET: Ed Linacre's an Australian with a plan to suck water out of the air in deserts and use it for irrigation. His low-tech Airdrop uses a turbine intake to suck air down through underground pipes. Moisture condenses out of the air and collects in a tank. From the tank it can be used to drip feed plants with water. An LCD screen displays tank water levels, pressure strength, solar battery life and system health. The low tech system should make it easy for farmers to install. More at James Dyson Foundation and video here.
SMART CRIME: Are you sure about that app you downloaded for your smartphone? Criminals are making trojan apps that silently send expensive SMS messages while appearing to do something else. It's a dangerous world out there; be very careful what you install. More at BBC.
- Miraz Jordan knowit.co.nz