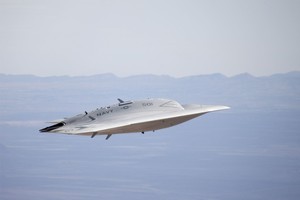 ROBOT WARS: The US Navy's X-47B is a jet-powered, autonomous stealth fighter drone. Current test flights are fine-tuning the systems required to land with precision on the moving deck of an aircraft carrier. Testing actual carrier launches and landings is expected in 2013. If they're working on an autonomous aircraft carrier too things could really start to get interesting. Or scary. Northrop Grumman has more.
ROCKET SCIENCE: 36,880 metres in 92 seconds, at speeds of 3,516 km/h — that was the Qu8k rocket, launched by a team of amateurs from the Black Rock Desert in Nevada. It came back to ground just 5 Km from the launch site after an 8.5 minute flight. The creators were able to recover all parts of the rocket after its flight and could prepare it for further launches. It's not just the rocket, though: payload is
all. Universe Today has more, and there's video here.
BATTERIES EVER READY: Sanyo's newest rechargeable eneloop batteries can sit in the emergency kit in your cupboard for 5 years and still have a 70% charge ready when you need to use them. What's more you can recharge them approximately 1,800 times. The nickel-metal hydride batteries come in AA and AAA sizes and are charged at the factory via solar energy. It's a shame the new batteries are only available in Japan to start with. Details at Sanyo.
ALL-SEEING BALL: Panorama photos are fiddly to create, what with setting up a tripod and carefully swivelling the camera just the right amount between each shot. The Ball Camera does away with all the fuss — just throw it into the air and catch it again. When the Ball reaches the apex of its flight its 36 fixed-focus twomegapixel mobile phone camera modules snap a spherical panorama. The image can later be transferred to a computer where the user can interactively explore the entire panorama, zooming in if they want to. The camera was created as part of a Diploma thesis. It's easy to think of uses for a device like that. Details here and video YouTube.
CHANNELLING OIL: The Wendy Schmidt Oil Cleanup X CHALLENGE 2011 results have been announced. The winner is an oil skimmer from Team Elastec / American Marine that can recover more than 17,000 litres of oil per minute from seawater. The skimmer uses grooved discs to maximise a channelling effect and pull oil from the water. Perhaps all oil transport ships should be required to carry such equipment for quick deployment in case of a spill. X Prize Foundation has more here and there's video on YouTube.
- Miraz Jordan knowit.co.nz