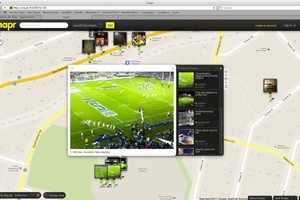 Wow, I bet there was lots of frenzied smartphone activity and twitter traffic as Auckland dramatically, and very publicly, showed off the failings of its public transport system on the inaugural night of the Rugby World Cup.
Luckily, no riots ensued.
A new game from the inventor of Blokka, Samstrixapps (aka Kiwi Sam Jarman), is Align It! You shake your device to shuffle up the tiles, then tap two tiles side by side or up and down, and then another two in the same way, to swap them with the goal of aligning the colours into same-colour columns. It's currently just 99 cents and could be just the thing for getting you through long, stuffy and frustrating train trips to Auckland rugby games.
Capturing the atmosphere
I bet there were many meetings organised, pictures taken, tweets tweeted and texts texted in a frenzy of mobile device action in Auckland, though.
And how about pictures moved around digitally? You can monitor games anywhere in New Zealand via the photos people take. Check out the Snapr cloud over North Shore Stadium in Auckland, for example.
The two Snapr guys, Edward and Rohan, have been working hard on the tech they developed in New Zealand and then in New York. Snapr is a technology platform for location-based mobile photo-sharing services. It allows people anywhere in the world to easily share their life experiences and see what's happening in real-time through mobile photos. I really like the way the photos are appended to a map - it geolocates them literally, and you can see veritable 'clouds' of photos appearing over events.
A new Snapr photo-sharing game, Capture The Flag, has a web demo to show you what's what.

Basically, Capture the Flag, 'the game of world domination for mobile phone photographers' lets people join a tribe and work as a team to 'win' popular spots by taking photos. It works for iPhone, but also Android and other web-enabled phones.
The app is free, by the way, and can be found here.
This app makes it easy to share snaps to popular services like Facebook, Twitter, Tumblr and Foursquare, but you earn extra points if your friends 'like' your photos or write comments.
New Zealand brands have already been busy been creating tribes and getting Snapr users to join - 42BELOW created Carnival to help people find nightlife spots, Burger Fuel is offering deals to users of the app nationwide via their tribe Hambo, V Energy drinks created the robot Mecha tribe, and Moa beer uses its signature bird. Jucy Rentals is supporting a tribe and will also help tourists get their hands on SIM cards provided by 2degrees. These come loaded with mobile data to help out visitors who want to play the game - which is pretty handy with the visitors for the RWC.
Tourism New Zealand is profiling over 100 experiences across the country with chances to win great prizes via a national photo contest.
The app features a map of the most hotly-contested spots and a global leader board. As well as being a game, it's possible to browse photos, find new places and connect with friends and like-minded people.
Getting to the game
If you completely give up on Auckland's infrastructure or you are travelling to places unknown for games or other reasons, TomTom's walking directions on the iPhone app might help you, and also the Traffic add-on which can get you effectively around bottlenecks, perhaps shepherded by the dulcet tones of Homer Simpson or, possibly more appropriately, Darth Vader. But the actual GPS device the company sells has gone a step further with a new All Blacks Edition GPS.
The TomTom Via All Blacks Edition GPS features directions read aloud by All Blacks stars: Mils Muliaina, Ma'a Nonu and Kieran Read. Rugby fans will be directed to their destination by the players who, as you might expect, put a rugby spin on their driving instructions.
Which may or may not drive you crazy, probably depending on whether you get to the game on time or not.
Even after the RWC is over, though, you can still flag your support for the ABs: the TomTom Via All Blacks Edition sports a silver fern on its exterior and has an All Blacks start-up screen, a rugby ball driving icon and whistle and siren alert sounds. How'd you like all that on your iPhone?
Anyhow, good luck to all the players and potential spectators.
- Mark Webster mac-nz.com