Sony launches two devices in battle for hand-held supremacy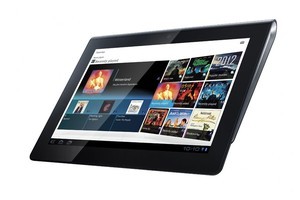 Sony unveiled the finished versions of its entries into the tablet market last week. The "Tablet S" hits New Zealand stores in November while the hinged dual-screen "Tablet P" will be available here early next year.
Both android-powered devices have obvious points of difference to Apple's iPad 2 and its many competitors already on the market, though it seems Sony's tablets won't be undercutting Apple on price.
Sony hasn't announced what the devices will retail for here, but based on the America and European price tags it's likely the cheapest in the line, the 16GB Tablet S, will be the same $800 price as the cheapest version of the iPad2.
The Tablet S is about the same size and weight as an iPad, but is wedge-shaped, with one side thicker than the other, its shape resembling that of a folded-over magazine. Early reviews suggest this makes it easier to hold and use than a flat, thin screen.
The Tablet P comes in one 4GB-memory model with 3G cellular broadband network capability. Resembling a large glasses case, it's designed to be small enough to fit in a purse or pocket; its two screens open like a book - and can be read like one too.
Both versions come loaded with e-book software that will enable users to browse and buy from Sony's store.
Both also link to other parts of the Sony entertainment empire - they come preloaded with original PlayStation games Crash Bandicoot and Pinball Heroes and they will be able to run games created for the original PlayStation and the PlayStation Portable.
They will also have apps that connect to Sony's Music Unlimited and Video Unlimited content stores, formerly known as Qriocity.
Also, the Tablet S will be able to be used, via its infrared technology, as a universal remote control for a wide array of home entertainment devices.
Sony claims the battery life of the devices under standard usage to be in the seven to eight-hour range and both tablets come with front and rear cameras, micro USB ports and SD and microSD card slots.
-TimeOut