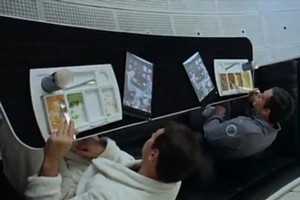 Film-maker Stanley Kubrick devised the tablet computer decades before the iPad was released, Samsung Electronics argues in the latest round of its patent war with Apple.
Samsung filed a declaration in a Californian court this week suggesting the basic design of the iPad was envisioned in Kubrick's 1968 sci-fi classic 2001: A Space Odyssey, the Wall Street Journal's website reported yesterday.
Apple and Samsung are waging an escalating legal battle in multiple countries, accusing each other of infringing on technology and design patents as competition in the mobile-gadgets arena intensifies.
Apple is alleging Samsung's Galaxy 10.1 Tab infringes 10 of its patents, including the "look and feel" and touch-screen technology of the iPad.
Sales of the Samsung tablet are on hold in Australia and Germany, awaiting the outcome of legal disputes.
The Galaxy 10.1 Tab was released in New Zealand last week and came out in other parts of the world in June.
Samsung is due back in front of a German judge today to appeal against a temporary ban on selling its tablets.
Apple filed a complaint with the US-based International Trade Commission on July 5 seeking to block its South Korean rival from importing several electronic devices.
That came less than a week after Samsung also sought to stop imports of Apple's iPads and iPhones.
The deepening dispute with Apple is undermining Samsung's ability to compete in a surging tablet market that is forecast to grow to US$53 billion ($64 billion) by 2015.
Losing the European market could cost Samsung half a million sales this year, analysts predict.
As well as hitting Samsung's sales, the intensifying patent dispute also threatens to strain a lucrative supply relationship as last year Apple was Samsung's second-largest customer, accounting for US$5.7 billion of sales.