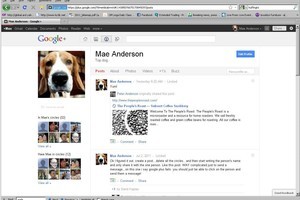 It is one month since the launch of Google+, a belated attempt at a social networking tool that invites users to follow friends' activities in their news feed and share favourite content by marking it "+1".
If this sounds familiar, it shows the extent to which Google is playing catch-up with Facebook, which is brewing a public offering next year that could value the firm at US$100 billion ($117 billion).
Even Google's executive chairman, Eric Schmidt, has conceded that Google has been late to the social networking space and the lucrative commercial opportunities.
But with Google's proven commercial success nudging its market value towards US$200 billion, and data vaults that hold the browsing histories of most of the online population, is Google really on a downward trajectory and is the era of search really ending?
Ben Gomes has worked on every aspect of Google's core search product and is leading exploration into the social navigation of search.
Despite Google's forays into everything from video communities to mobile operating systems, he insists Google is still a search company at heart.
He said it was search that fuelled the explosion of web content and Gomes doesn't see social data as a replacement for search but as a layer that accesses the information in a different way.
"We saw a symbiotic evolution of the web and search because people could find what they wanted more easily," said Gomes, who joined Google in 1999.
"We see social as a layer in search that provides you with more relevant information in certain situations. But the most important thing in search is still the search term, and how your computer understands that."
Though Google Plus is an intelligent attempt at a social networking tool, it seems a typical Google product in that it is brilliantly engineered but lacks the human focus that has propelled Facebook to 750 million users.
Yet though Google and Facebook are both keen to burnish their scientific credentials, ultimately the real battle is over cold, hard cash. Google made 97 per cent of its revenues, or US$32.3 billion, in the past 12 months from advertising.
eMarketer, meanwhile estimates that Facebook's largely ad-generated revenues will grow from US$0.74 billion in 2009 to US$5.74 billion in 2012. If there is any of Google's lunch to be eaten, it is here.
- OBSERVER