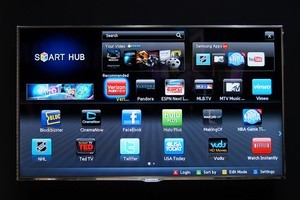 Internet television has arrived with the potential to beam the world wide web into the living room.
The only snag is that so far there is nothing much in the way of programmes to watch.
Prime time advertising began this month for big brands like Sony and Samsung, following the introduction of the new products to New Zealand in April.
Prices for the televisions vary wildly from $750 for a 32-inch screen, to $5999 for a 55-inch screen with extras such as 3D viewing.
With the ability to hook into the web via an ethernet cable or WiFi, internet TVs allow you to look up videos on YouTube, browse websites and update your Facebook status while sitting in front of the box.
Viewers control these functions with a remote, a wireless keyboard or an iPhone.
They can also plug in a camera and a microphone and use the television to video call others via Skype.
However, technology commentator Peter Griffin said the real potential of these sets is the ability to deliver movies, shows and sports games almost instantly from the internet and for the viewer to interact with the content.
"Where the really clever stuff is going on is when the broadcasters are integrating the internet into their programmes," he said.
"When I was in Vegas at the Consumer Electronic Show in January ... I saw ESPN stuff and there was a demo of a bunch of friends who were interacting via their TV screens during a game and sending messages and making recommendations.
"You could pull up a sidebar of all the upcoming games and schedule them into a recorder," he said.
However, Mr Griffin said this level of integration and sophistication is still a long way off in New Zealand and it would require the backing of local broadcasters like Sky Television or TVNZ.
He also said a service like the United States' Netflix - which allows subscribers to order and watch a near-exhaustive catalogue of movies over the web - will not be implemented any time soon.
"We are so far away from a Netflix type service ... [in the US] they're actually delivering stuff up which is tailored to fit on internet TV," he said.
This type of television experience will also need the capacity boost provided by the Government's ultra-fast broadband scheme - due to reach 75 per cent of New Zealand by the end of 2019.
However, blogger and gadget reviewer Ben Gracewood said that consumers should not necessarily believe the hype around the new internet-capable devices.
"TV-makers obviously need to find gimmicks to sell their next TV because TVs these days are pretty amazing as they stand with built-in FreeView, HD, programme guides - everything you need to watch TV."
Internet TV
Pros:
* Watch YouTube
*Check email or browse the web
*Video call anyone in the world with Skype
Cons:
*Virtually no dedicated content to watch