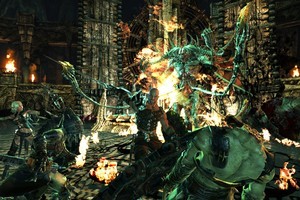 It would have been nice to get this done without referring to this game's most obvious inspiration, but Hunted: The Demon's Forge can't even make it into the shops without doing the same. On the cover is a line from Kotaku: "A dungeon-crawler for the Gears age."
So be it. Hunted takes the two-man wrecking crew formula and drops it somewhere between Middle-Earth and Skeletor's house, offering legions of enemies to smite with your swords, arrows and magic.
Caddock is a melee specialist whose disturbing dreams involving a demon, an artifact and a very under-dressed lady come to life as the game's secrets unravel. As Caddock chases his visions he is joined by fellow mercenary E'Lara, a sexy, witty elf with formidable attack skills.
Even in AI mode, your co-op partner's cover fire is invaluable. Both characters are equipped with bows and swords, so swapping the roles of cover fire provider and berserker is easy. The resulting action is repetitive, and sometimes frustrating, but it is largely satisfying. It needs to be, because there isn't much else to do aside from a few puzzles.
The two characters talk a lot throughout, making it a sort of medieval buddy movie with lots of swords and killing. The dialogue is welcome, for it distracts from the just-another-dungeon or burning township syndrome which has been written into Hunted's code.
Graphic elements are Hunted's worst problems. The in-game camera often floats in the wrong place and the environments are always excessively gloomy. The game makes heavy use of cinematics but too many times, they interfere with the live action - sometimes fatally so.
Characters can only carry one health power-up at a time and if a character is downed in combat, they have a limited time to be healed by their partner or else they'll die where they fell, much like Gears, et al. The limited resources encourage more co-operation - or more time spent bashing pots in the hope of finding another potion.
Verdict: For all its ills, Hunted is enjoyable. The action is good fun, and there is something attractive about the lead couple - they breathe life into what could have been a write-off. The biggest question is about longevity: not everyone will want to turn back to this once the 12-14 hour story mode has been completed.
Stars: 3/5
Platform: XBox 360
Rating: R13
- Timeout