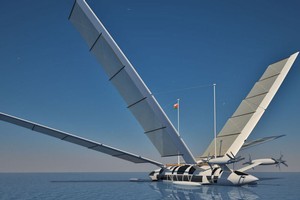 FLYING OR SAILING?: A flying yacht? This one of a kind craft was manufactured in France for corporate executives of the Masqat Airways air transport company. As a plane it has a range of 600 Km. As a yacht the wings transform into 4 masts to support the sails and can presumably sail as long as there's wind. It's definitely bizarre. More at Octuri.com.
HEART YOUR PHONE: Just in case you quickly need to monitor your heart, the Smartheart personal electrocardiogram (ECG) can be right at your side. It turns your smartphone into a hospital-grade ECG. A single monitor straps to the chest and sends data to a smartphone wirelessly.
Within 30 seconds your results are ready and can be emailed or faxed to your doctor. Treat your smartphone well — it may save your
life Tech Crunch has details and video here.
MOON AND MORE: China's Chang'e-2 spacecraft has been orbiting the moon, but now it's off to outer space, 1.5 million km away. While orbiting the moon it took photos of both poles, and the Sinus Iridum, where future lunar missions may land. The long distance mission brings challenges in communications and control. China's planned lunar missions include a landing and a lunar rover, and collecting soil samples. It's good to know it's not just NASA out there. More details on the mission here.
STREAMING EYEZ: Eyez video recording glasses look like an ordinary pair of specs, even while they're recording video and audio at high quality to the 8 GB of installed flash memory. The battery lasts up to three hours. Wireless and Bluetooth connections make it easy to share recordings. Paired with a smartphone, videos can stream directly to the web. Unfortunately the glasses are still only a prototype. To avoid embarrassment, just make sure you know when the glasses are
streaming. here.
HAIR WRITING: The point of an ad is probably to be seen. That's a bit hard when the ad covers only 100 microns and is written on a human hair with the help of ions and an electron microscope. Gillette wanted to emphasise how precise its blades are and organised the stunt. I'm sure a lot of people would be very happy if all ads were that small.
Adweek has more, video here.
- Miraz Jordan knowit.co.nz