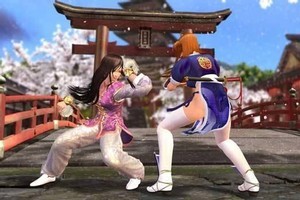 Despite the fact that it has been labelled child porn by ill-informed bandwagon-jumpers who haven't even seen the game, Dead or Alive: Dimensions for the Nintendo 3DS is an able and entertaining beat-'em-up that takes full advantage of the new portable. The game is being reclassified in several countries after whingers noted that you could take photos up the skirts of the scantily-clad female characters. This does not constitute kiddie porn. DOA is actually a port of several Xbox games rolled into one - although it does miss out the DOA beach volleyball title. As a 3DS showpiece, the new game works well, with excellent cut-scene and in-game graphics, although the frame rate takes a kicking when the 3D slider is set to "max".
The story is, like all DOA games, rubbish and largely irrelevant. But if you focus on the fighting - as Team Ninja has here - it is pretty sweet.
While you can easily get through early levels adopting usual button-mashing fighting style that many favour, a handy feature is special moves and combos appearing on the lower screen - touch the appropriate move in the list and it's executed automatically.
Arcade mode lets you race the clock against AI opponents, Survival puts you against a steady stream of enemies and Tag Challenge with AI teammates - unless you've got a mate with a 3DS and the game, which is the only way to play offline multiplayer. The main game mode is Chronicle which basically means sitting though the confusing story, but has the advantage of a good tutorial system for high-end offensive and defensive moves.
If you need a change from Street Fighter IV for your 3DS fighting game fix, this looks the part and plays just as well - just don't believe the hype. As with most anti-gaming campaigns, it's not strong on fact.
Rating: 3.5/5
Available on: Nintendo 3DS (TBC)
-TimeOut