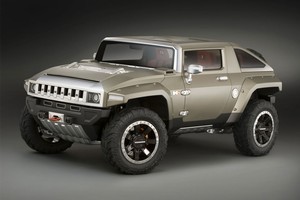 DOTS BEFORE THE EYES: Dynamic Eye sunglasses, invented by a US physicist, use liquid crystal for the lenses. But they have a special
feature: a small sensor in the nose bridge detects glare and sends a signal to a microcontroller. The controller changes the lens to display a tiny black square in front of the eye to block the glare. As the wearer moves the black dot moves too. All the necessary components fit within the frame of the glasses. Because the US Air Force funded some of the research the first people likely to see these sunglasses will be fighter pilots. Just imagine programming these to block out other things you don't want to see! More at Popular Science.
SMALL GIANT: Traditionally we think of a Hummer as an enormous petrol guzzling behemoth. But the new MEV Hummer HX is a smaller electric resort vehicle. It comes in various configurations, including 2 or 4 seats, with removable doors and roof, and with a rear mount for a golf bag. It can travel 96 Km on a charge, or 160 if you spring for the lithium batteries.
Excessive is still excessive even when there's less of it. Details on the electric behemoth here.
ADVANCED SONAR: We know about the dogs that work with military forces, but it turns out the US Navy is also working with dolphins and sea lions. Dolphins use their sonar abilities to find mines, even if the mines are buried in the seafloor or floating around. Sea lions can not only find mines, but also attach lines to explosives to help recover them. We're still trying to make machines do what animals can already do. ABC News has more.
SMART DOORBELL: A British teenager has created the Smart Bell, a doorbell with a Sim card that can dial your cellphone and allow you to talk to whoever rang the bell. It also produces a little bit of white noise to give the impression that it's using an intercom rather than a remote phone call. The product is about to be released by some of the big British retailers. Oh, no more missing out on courier deliveries - if they bother to ring the doorbell. Check it out at the Daily Mail.
PASSING HAIKU: If you're pleased with yourself for using strong passwords for your online activities consider how long a brute force attack would take to crack them. Using free tools and current low cost GPUs you might find that a 7 character password would take less than 20 minutes to crack. Time to start thinking about haiku instead. Details at PC Pro.
- Miraz Jordan knowit.co.nz