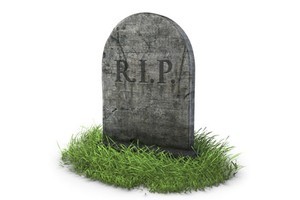 SMART GRAVES: One Seattle company is bringing QR codes to tombstones. A smartphone and a free app allow visitors to learn about the person buried in the grave, and also to leave messages and record stories. It's a good thing holograms aren't quite ready for use yet.
The grave truth here.
BRAKES NOT KIDS: Aucklander Matagi Iasoni Taufa'u has invented a device to stop cars from running over kids in driveways. The April Stop puts a trip-switch on a car's mudflap. If it's triggered it sets off a device under the bonnet that instantly engages the brakes without any driver input. The April Stop has had a public trial, but now needs backing for production. Let's keep the kids safe. More details here.
UPS ABS: Giant package delivery company UPS want to increase their fuel efficiency. One solution they're testing is plastic trucks that run on diesel.
The ABS plastic trucks are around 450kg lighter than standard sheet-aluminium trucks. The reduced weight and the smaller engine the lighter trucks need make them 40% more fuel efficient. The company's no lightweight, but the trucks will be. Fast Company has more, video here.
DRAW THE LINE ON DISEASE: Many children and pregnant women in developing countries die from fairly easily diagnosed conditions such as preeclampsia. One problem is that the standard tests, although relatively inexpensive are still too costly in such places. Student at Johns Hopkins University in the USA have created a 'pen' that reduces the cost of testing from 50 cents to one third of a cent per time.
Draw a line on paper with the pen then add a drop of urine. If a particular condition exists the urine reacts with chemicals in the ink and the line changes colour. Saving lives can sometimes be really simple. Popsci has more.
CLOUD ASTRONOMY: The Square Kilometre Array telescope, to be hosted by either Australia and New Zealand or South Africa, will consist of 3,000 radio dishes. Those behind the ANZ bid plan to use 'theskynet', a citizen science application to help share and use the data the Array produces. The grid Cloud computing initiative could harvest the computing and storage power of computers around the world. It's based on open source Nereus V Cloud computing technology. Hey, if we're doing all the work what do the astronomers do? More info at Computerworld.
- Miraz Jordan mac-nz.com