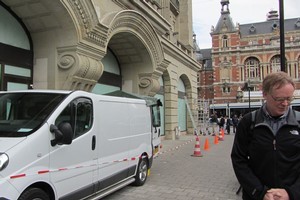 Another interesting interview I undertook while in Europe recently was with the editor of the Dutch Mac magazine, MacFan. Who better for an insight into the state of Apple in Holland?
Miro Lucassen has been the editor of MacFan for several years. The magazine was founded in about 1995, aimed at Mac users in the Netherlands and Flemish- (aka 'Dutch'-) speaking Belgium.
As Lucassen told me, MacFan has "All the classic elements of a magazine. Editorial, then some news, although it's bi-monthly so that's not always so up-to-date. Letters to the editor, products somehow related to the Mac, then hardware reviews, Apple products, software reviews ...
"One of the things we put a lot of effort into is comparative reviews." This takes considerable resources and it's hard work. Lucassen concurs: "It's hard to keep the ratings from climbing up. We have to risk we don't end up with all five-scores as things keep getting better. We have to raise our expectations each time to prevent this happening."
There's a full-page cartoon every issue; a result of a collaboration between the publisher and an artist. This follows a couple of characters created for the purpose, so a story can keep evolving and reflecting the concerns of Mac users.
And "Two columnists write about their Mac attitudes and behaviour, and we have added in iDevices recently, but they can't be the mainstream of the magazine, as it's a Mac magazine. But of course, Apple is pushing us towards integrating all these things."
The magazine's comparison of navigation apps on iDevice was timely, with Navigon and TomTom coming tops. (The writer preferred Navigon's maps, but found TomTom's traffic information superior.)
"There should be some human aspect in the magazine. My predecessor decided on two interviews in every magazine, and I agree with this principle so I have continued it. We know it's not the best-read part of the magazine, but it gives a moment away from the megabytes and megahertz - this is just people talking about what they do with their equipment."
"There's a community online that caters to answering questions, so that aspect of the magazine is diminishing. Online is virtually instant, after all. MacFan is every two months.
"Sometimes we do a history article, maybe every four issues, on something related to Apple as a company. This one's on how Apple does marketing. We have an upcoming one on the history of Apple Stores, which have existed for ten years now."
Tips and tricks include, in the issue we looked at, how to use an Android device with your Mac. Lucassen was sanguine on this topic: "If you really want to, this is how to. And then we have a column at the end, to 'swipe you out' ".
Readership of MacFan has steadied through the recession - it's stayed at sales of around 20,000 per issue.
Like New Zealand, Holland doesn't have an Apple Store, although that's all set to change, with Miro rather conspiratorially arranging our meeting at a café in the Amsterdam's central Leidseplein (the Balie). This is right by the premium location he's "99 per cent sure" will host The Netherlands' first actual Apple Store.
I used to live a stones's throw from here, as it happens. In fact, I was here one night on my bike at 2am when the cops shot a tourist from South America dead almost in front of my eyes. He wasn't even the one they were aiming at, and quite what they were doing firing pistols at anyone in a crowded square in Amsterdam, I never actually found out. Anyhow, back to now:
"We had all kinds of small resellers at first, at first just two or three shops. As Apple became more popular, people increasingly said 'but where can we buy them?' Before, you had to go to [the small towns of] Alkmaar or Woerden to buy one. That was the case for many years." He shakes his head at this.
"Apple then introduced sales with a telecoms company, so your could buy iMacs in telephone stores for a few years, but then that stopped. Then Apple experimented with resellers in industrial areas, but not shopping malls.
"This situation was crazy. You couldn't buy an Apple but the demand was very strong. Then we finally got resellers, so about five years ago we had 25 Premium Resellers - I think the concept may have even been developed here in the Netherlands then exported, but I'm not sure.
"In the 1980s, the European Distribution Centre was even here in Holland, when Apple still made Macs in Ireland."
Yes, those were the days.
"Anyway, these Premium Resellers developed here. As to what hoops there are and how the resellers must jump through them. Apple is very serious about this process.}
Yes it is.
"But the margins for these things [Apple products] are too small to live, so they [the resellers] have to get by with what else they can sell along with Apple-badged products. That's where the profit comes from."
Unlike reviewers here (well, me, anyway), Milo sometimes gets review iPods to keep, although test Macs go back after the standard two weeks. "Last year we got three models of the new iPods to keep."
Meanwhile, "The resellers started from people who loved Apple, and grew, but then started realised they had to become more like proper companies." So resellers have been merging or selling. "Now the Premium Resellers have been concentrating. iCenter is the biggest, in 18 locations.
MacHouse merged with HTR and together are now called IMStore, but they have a growth strategy. AMac switched management with the purpose of growing, and they have six or seven now. The independents are now under pressure to sell, or merge with the bigger ones.
"You are discouraged from having 'Mac' in your name." [That may partly explain why MagnumMac here has become 'YooBee'.]
"iPad is a huge success in the Netherlands, and iDevices in general may be part of the reason why Apple doesn't like 'Mac' in reseller names any more."
The evidence for Apple's actual Store is compelling. Apple's office near Utrecht came up for rent, so Apple was obviously moving its office. This duly happened in a historic building in the aforesaid Leidseplein, in the Hirsch gebouw. "They didn't exactly send us a 'We have moved' message, but of course, we had to know."
Some of the bottom floor of this building is currently empty, and it's being developed. A glass stairway has been spotted in plans that have not been attributed to Apple, and these plans need review, as the building is historic, but a glass stairway is an Apple Store thing.
Well, it's pretty clear this is a brilliant place to have an Apple Store - indeed, when we looked, a lit Apple sign had been added to the lobby.
Lucassen raised his eyebrows. "Well ... that's a new development."
- Mark Webster mac-nz.com