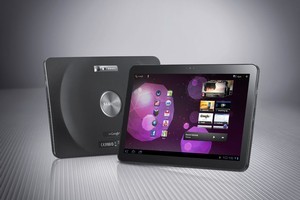 Korean electronics giant Samsung is doing its darndest to own the Android world - and latest figures from the US show it's doing the business.
Recent smartphone figures show that handsets running Google's relatively open source Android operating system are taking over the market - and Samsung has captured the top spot for mobile phone handset sales. Now the company is widening its focus to include tablets - the long-time unsuccessful device category that nobody, bar supergeeks, really wanted until Apple unleashed the iPad on the world.
Samsung hit back with its Galaxy Tab - an Android-toting tablet in a smaller, 7-inch form factor. It was a cool product - but ran a version of Android designed for smartphones.
This limited its abilities, and meant annoying little touches like "Do you want to turn your phone off?" messages when you tried to power it down. Well and good, but if I fork out for a tablet, I'd like one that actually understands what it is.
While the original Tab was a more usable size for outright mobility, it lacked screen real estate when used at home for web browsing.
Apple CEO Steve Jobs was quick to pour scorn on the little 7-inch form factor last year, as the iPad was busy taking over the gadget world.
He labelled them "tweeners" - "too big to compete with a smartphone and too small to compete with the iPad".
At this year's Consumer Electronics Show in Las Vegas it was staggering just how many Android tablets there were - and despite many excellent devices, there was some absolute rubbish on offer.
This is an obvious side-effect of the open source (read: free) operating system - and low-end manufacturers were throwing their lot in. Some were totally amateurish devices with resistive (push down hard) rather than capacitive (touch lightly, a-la-iPhone) screens.
But aside from Motorola's Xoom, most were running early versions of Android that weren't quite up to the tablet task.
There's no doubt that this is a rapidly growing category - which Apple is surely winning - between the original iPad and its recently-released successor.
Samsung has now launched a couple of new form factors of its Galaxy Tab, and the good news is that it's now running Android 3.0 - aka Honeycomb - which is designed primarily for tablets, or slates.
After spending some time with the 10.1-inch version of the Galaxy Tab, it quickly became clear that Samsung is in the hunt when it comes to providing serious competition to the iPad.
The incredibly thin device sports a slick industrialised finish and feels brilliant to use - the Honeycomb software makes a huge difference, although it is not without its flaws.
Unfortunately, the version tested here did not yet sport Samsung's own layer of proprietary software - the way that Android tablet makers differentiate their products.
On its smartphones, like the awesome Galaxy S2, there are separate hubs for various interests, like music and reading (with access to literally thousands of magazines and newspapers around the world) - but the Samsung boffins are still testing this software.
The larger Galaxy Tabs - 10.1, available very soon and 8.9-inch (in the second half of this year), depending on the size of your hand/manbag - are extremely well-specced, with Nvidia's robust Tegra 1GHz dual core processors, 16GB of storage with support for microSD cards up to 32GB.
Samsung's impressive WXGA screens bless both sizes - with 1200 x 800 resolution, offering impressively sharp results for websites, but showing up poor quality content on low-def websites and scaled smartphone-intended apps.
It packs all the tech goodies you'd expect from a cutting-edge Android tablet - proximity sensor, accelerometer, gyroscope and a digital compass.
Though taking photos and video with a tablet of this size proves an unwieldy experience at best, there's a front-facing two megapixel camera (great for Skype and other video conferencing software) and a rear-facing three megapixel camera with LED flash.
Video can be recoded in 24 frame-per-second 1080p high-definition, and played back at 30 frames, using codecs friendly with most systems.
Once Samsung drops its apps on to the new Tabs, wireless sharing via AllShare will be possible for those with recent model Samsung televisions.
Despite the stonking processor power, the Tab did hang up several times - usually for at least 30 seconds - becoming unresponsive and then working again, seemingly at random. The bundled web browser didn't help the case - it also frequently proved unresponsive. This could be a Honeycomb issue though - and Google has already announced the next tablet OS - Android 3.1.
So the big question is this: priced at $1299 through Vodafone, is the Galaxy Tab 10.1 a serious iPad competitor? Maybe - but this will come down to preference.
The legions of Apple fanfolk are likely to buy the iPad just because his royal Jobness says so. Others will like the easy interface.
But there are many who are equally averse to buying anything out of the hallowed halls of Cupertino - they're likely to be using an Android or Nokia smartphone and are going to happily embrace a Google-based tablet, especially one as well-specced and slick as the Galaxy.
Then there are BlackBerry users, who are going to be looking at the smallish BlackBerry PlayBook, although it has already been the focus of a recall, albeit a small one.