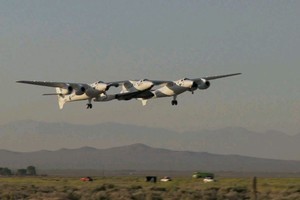 SPACE FEATHERS: Virgin Galactic's SpaceShipTwo has an interesting way to re-enter from space: it rotates the tail section upwards to a 65 degree angle. This is called 'feathering' and creates drag to help slow the craft. Before landing the tail section is moved back into its normal flight position. High drag and low weight of the craft mean that the skin temperature during re-entry stays very low, so heat shields aren't needed. Icarus didn't have so much luck with high
feathers. More at VirginGalactic and video on YouTube.
PASSWORD IRIS: The EyeLock from the Hoyos Group may save you from having to remember and type complex passwords to access your favourite secure websites. It's a portable iris-scanning device for consumers that sits in a base connected via USB to your computer. Use the software to set up which sites you wish to access then look into the scanner. It takes an image of your iris. To access the secure sites later just look into the scanner again.
Every day, little by little, the future edges into the present. More at CNet News.
UNDERWATER SPACE: Before NASA astronauts can go into space they have to go underwater for a few weeks. The Aquarius underwater lab near Florida, used for NASA Extreme Environment Mission Operations, is where crew train and equipment is tested because it's a lot like being in space. The NEEMO 15 crew will practice for exploring Near-Earth Asteroids with activities like shovelling soil samples, anchoring to objects, and moving about. And presumably, avoiding fish. More at IBTimes.
PRIZE TRICORDERS: The X Prize Foundation and Qualcomm are putting up a $10 million prize for a mobile solution that can diagnose patients better than or equal to a panel of board certified physicians. The Tricorder X Prize want to enable consumers in any location to quickly and effectively assess their health condition and decide if they need to see a doctor. Get those designs underway today. More at XPrize.
DO YOU SPEAK ROBOT?: Researchers in Queensland are teaching Lingodroids to invent new spoken words and generate an entirely new language. The robots use a mobile platform equipped with a camera, laser range finder, and sonar for mapping and avoiding obstacles. If one robot finds itself in an unfamiliar area it creates a word to describe it and communicates that word to other robots it meets. Then they may play games to reinforce the language. In tests robots were able to create spatial maps even of areas they had never explored. There's a new challenge for the Google Translate engineers. More at IEEE.
- Miraz Jordan knowit.co.nz