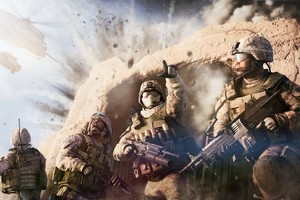 Codemasters put a lot of thought into Red River, which opens with one of the finest introductory sequences ever seen in a game: an entertainingly frank, funny and expletive-laden presentation detailing the history of the present-day Middle East tensions and the rise of Osama bin Laden, all setting the scene for you and your US
Marine Corps buddies in the central Asian republic of Tajikistan.
The excitement of contemporary shooters is replaced by "real" modern warfare in Red River. That's lots of tedious marching which is occasionally broken when your scout spots a lone target by a rock half a kilometre away.
Even the Humvee cutscenes, where the staff sergeant barks foul-mouthed orders and rules as you rumble through the countryside, fire you up more than an engagement against two or three insurgents in a small compound actually requires.
If you can stay with the game long enough to meet Tajikistan's eastern neighbours, things do heat up.
Here's where we run into problems. The enemies can be hard to kill thanks to the glitches Red River is plagued with. If you miss your shot because of the bullet drop physics, sort your skills out.
If you shoot an enemy directly in the face and he stands there like the Rock of Gibraltar, that's a glitch. In multiplayer, baddies sometimes just vanish. Is that victory?
When you call your fireteam to storm a building and they're crouched 300m behind you in open terrain with no enemies in sight, it is infuriating. That's a problem, because critical to the game is how your team responds to your commands. You can save each other's skins by calling for an emergency field dressing.
In theory, it's a great idea. In practice it's your useless, glitchy friends watching you bleed to death from a safe distance or walking directly past enemy shooters and taking lead in the face, putting them first in the priority queue for medical attention.
You're discouraged from being a lone wolf, but because of the dodgy fireteam it's all you can do to get by.
Stars: 3/5
Verdict: Red River is hard to rate. It's let down by its poor AI, unpolished graphics and sparse action. The monologues, however, are so entertaining that the negatives are almost worth putting up with. Almost.
This game peaks with its intro, then drops like a long-range bullet, taking its potential down with it.
Classification: R18
Platform: Xbox 360