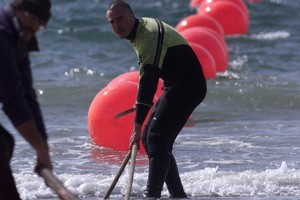 The company planning to build a second internet link to the United States says a funding deal with ANZ Bank shows there is confidence the project will be a success.
Pacific Fibre announced this week it had partnered with the bank to fund the debt portion of the US$400 million ($495 million) cable system.
The link plans to transport Australasian internet traffic to and from the US down a 13,600km pipe.
ANZ is to take on a significant portion of the debt itself, and arrange finance from other banks for the rest. Debt would make up 40 to 45 per cent of the build (US$160-US$180 million), said Pacific Fibre chief executive Mark Rushworth.
The company signed deals this week with Credit Suisse and First NZ Capital to raise capital from potential shareholders for the remaining 55 to 60 per cent.
Pacific Fibre has already completed four funding rounds, but Rushworth said the next leg would bring the serious money.
"[The early rounds] were for project development funds to get the idea off the ground. This is bringing in the big global players with extensive networks to bring in the large chunk of equity required," he said.
"One of the signs of having big banks on board is there's confidence in the project.... and now it's a matter of raising the final capital and starting the build."
Rushworth said a deal with a major financier would have been necessary even if former partner PacNet, which was to take a stake in part of the cable, had not pulled out of the project this month. Rushworth said the enterprise was running to schedule, the system due to be up and running by 2013. Negotiations with companies to supply equipment and build the cable begin next month.
Rushworth argued a second international link was needed for New Zealand to tap into the potential of the Government's ultra-fast broadband scheme, and to cope with rapidly increasing demand for international internet capacity.
It would compete with the existing Southern Cross cable, which has a monopoly on international traffic services.
Pacific Fibre was founded last year. Its board includes Sam Morgan of Trade Me, The Warehouse's Sir Stephen Tindall, and former All Black captain David Kirk.
CONNECTING NZ
* Pacific Fibre plans to build a 13,600km internet cable between Auckland, Sydney and Los Angeles, to compete with the Southern Cross line, by 2013.
* ANZ will fund up to US$180m ($222.8m) of debt for the cable, contributing a "significant portion" itself, and arrange the rest from other banks.
* This will account for up to 45 per cent of the total cost of the project, which sits at US$400 million.
* The remainder will come from equity funding, led by Credit Suisse and NZ First Capital.