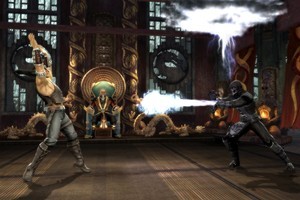 There is something oddly charming about this series reboot of Mortal Kombat. The way it shamelessly revels in its own gore is reminiscent of a small child having a good old chuckle after scribbling with markers all over the living room walls.
MK has always been that kind of series, celebrating its own silliness as much as its willingness to push the boundaries of taste. Those limits are further tested in this latest offering, with the infamous fatality moves going far beyond that of the spine-ripping infamy of the original MK from 1992.
A particularly perverse finishing move belongs to Smoke, the ninja who appears to have a two-packs-a-day habit. When the call comes to finish the fight, Smoke barbecues his victim from the inside out as their skin melts off their trembling flesh. Pass the Wattie's.
The game's meatiest aspect, aside from the bits and pieces of fallen fighters, is the story mode. It is a series of literally dozens of fights, framed by a larger movie-style adventure that takes you from Shang Tsung's mysterious island to many of the vistas seen in the first three MK games.
It takes several hours to complete and encourages the player to use much of the game's expansive roster, instead of just letting you play as Scorpion or Sub-Zero until it's time to get fresh air. The story and dialogue is about as cheeseball as the 1995 Mortal Kombat film, which in this case is a compliment.
The Challenge Tower also forces players to diversify and take control of different characters to beat 300 tasks which range from the straightforward, like beating up three enemy underlings, to the bizarre, like a one-on-one fight in which both fighters begin the match decapitated.
MK plays, looks and feels like it belongs in the series, though it can be difficult to cope with clumsy thumbsticks where the arcade-style "tournament" stick must be better.
Classification: Xbox 360
Rated: R18
Stars: 4.5/5
Verdict: Mortal Kombat works hard to prove itself as a true home console experience rather than an arcade-style flash-in-the-pan and it succeeds, thanks to the best story mode ever seen in a fighting game. The control, audio and visuals aren't perfect, but they're more than good enough in this excellent game. It's very bloody, well-executed and there is so much bang for your buck.
-TimeOut