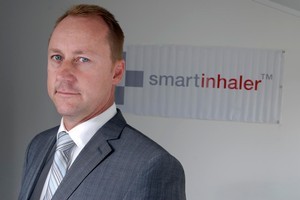 Auckland business Nexus6 has signed a distribution deal with Clement Clarke International that will take its medical technology to asthma patients in Europe.
Nexus6 provides data logging, communications and reminder technologies for patients, healthcare professionals and clinical researchers to deal with asthma.
Its Smartinhaler devices monitor and report patients' medication usage to their doctors using wireless technology to provide real-time data.
Clement Clarke will market and distribute Nexus6's Smartinhaler products in Europe to improve the use of inhaled medications for asthma and chronic obstructive pulmonary disease (COPD) patients.
Clement Clarke manufactures a peak flow meter used around the world to monitor asthma and adjust management programmes.
Nexus6 chief operating officer Garth Sutherland said the company was excited about providing new applications for patients by combining Clement Clarke's expertise with its Smartinhaler technology.
Nexus6 graduated from the Icehouse - a business incubator programme for start-up businesses run by Andy Hamilton - in 2005.