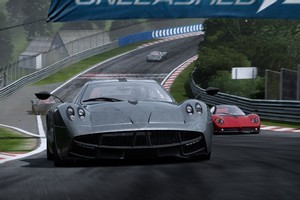 Need for Speed has always sat solidly at the arcade end of the racing game spectrum, but with last year's Shift, Electronic Arts attempted to push further into the simulator bracket. This didn't exactly work, with Shift occupying a strange spot between serious sims like Forza Motorsport and Gran Turismo, and dozens of other racing wannabes.
Shift 2 has improved on this position, but doesn't quite take on the big boys. One move in this direction was signing a deal with the FIA for GT1 World Championship racing - the pinnacle of a varied and packed but uninspired Career mode. Autolog, from the cop chase ND4SPD game Hot Pursuit, shares live updates between friends, showing who has the fastest times on different tracks or in each of the numerous events which make up the level system. While its effectiveness does depend on how many mates are playing the same game you are, it is a great way of breeding competition and keeping you going back to tracks to improve on your performances.
Another big change is the new helmet-cam view which "simulates" the in-car motorsport experience. It does this by looking into corners when it guesstimates that you'll be wanting to do the same, and provides a bumpier, more violent, and often quite blurry view. Some have raved about the mode, but I found it a bit like seasickness without the benefit of fresh snapper. The simpler cockpit mode was most usable, but occasional switches to an over-bonnet view were needed. There is a monstrous selection of cars on offer, and once you've bought them you're able to modify everything from tyres or drivetrain, right through to a full-race factory "works" conversion.
Graphically, Shift has been drastically overhauled, and offers excellent frame rates throughout, even when there are a lot of cars around you on-track. It makes big use of blurring and other effects to give an ultra-aggressive feel - crashes are loud, violent and bone-crushingly realistic - and environments, tracks and big flames popping out of giant dual drainpipe exhausts all look bang-on.
But Shift's handling is still not quite there - it falls in the crack between dumbed-down arcade racer and hyper-precise sim - there is quite noticeable lag and a very skittish physics model that, while it may make the gamefeel on the edge, does detract from making it a serious race simulator. There's 12-player online action to be had, and XP can be earned both online and in single play as you meet event criteria.
Rating: 3.5/5
Platform: PS3, PC, Xbox 360 (also PS3, PC)
Classification: G
Verdict: Will Shift 2 replace Gran Turismo or Forza? No way. But it does offer a deeper style of racing gameplay for those who aren't up to the obsessive level required by those big-name simulators.