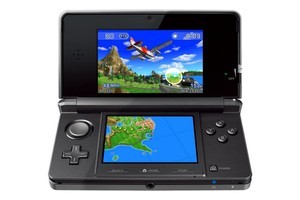 Nintendo has taken its DS handheld into the future with 3D gaming - and without the need for stupid glasses.
Nintendo has owned the portable gamespace for years with its DS handheld, clocking up in excess of 145 million sales.
But it turned the electronics world on its ear last year at the E3 videogame expo in Los Angeles, revealing a no-glasses 3D version of the DS. And after much hype, the Nintendo 3DS launched here on Thursday.
The dual-screen DS has been released in numerous guises - DS, DSLite, DSi and the larger DSXL - but even for the iconic Japanese gamemaker, getting close to the leading edge of 3D technology was a bold move, both in technical terms and because the handheld market is taking a hit from the ever-growing smartphone market.
One could question how well a $490-odd device that requires $70-$90 games is going to fare in a world where a $350 iPod Touch can be tooled up with literally hundreds of games costing as little as $1.29.
And longtime competitor Sony will soon allow some Android phones to play PlayStation games, hedging its bets as it readies to launch its NGP handheld to replace the ageing PSP.
As a piece of tech gimmickry, the 3DS is impressive. The wider-aspect top screen shows gameplay in excellent 3D, while the lower screen remains a two-dimensional touchscreen used to navigate menus.
The 3D effect can be controlled by a slider on the right hand side of the upper screen, or switched off entirely if you can't handle the added eyestrain.
In order to remove the need for bulky active glasses as per 3D television, the new 3DS uses a "parallax barrier" LCD screen which apes the glasses' effect by feeding ever-so-slightly different images to the left and right eye.
The result was striking while testing out a specially rendered 3D version of the classic beat'em up game Street Fighter, but was quickly lost if you move your head from directly in front of the screen - or if you're trying to watch someone else play.
Other nice tricks on the new machine is the use of free 3D "augmented reality" applications - playing with items that don't actually exist - as well as taking 3D photos with the unique dual-lens built-in camera, and Street Pass, which swaps game info with other 3DS owners that you, er, pass on the street.