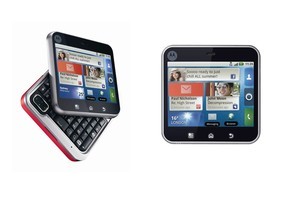 Previous attempts to develop cellphones specifically for the female market have included a pink clamshell which flipped open to reveal a makeup mirror.
The Motorola Flipout is a bit more subtle in its appeal to femininity, but is nonetheless a device that is definitely intended for a handbag.
And a word of warning for any of you girls who do decide to buy one of these dinky little units: when you find yourself lunging into said handbag to answer a call, make sure you don't accidentally grab and attempt to answer your compact by mistake. Both items are about the same size.
First impressions
As a 67mm-long square box when it is in closed-up mode, the Flipout certainly makes a unique first impression. We aren't used to mobile phones being square.
For making and receiving calls, the device is swivelled open to reveal its cute little QWERTY keyboard.
The device comes with two interchangeable back covers to add that vital ability to fashionably accessorise in the most appropriate hue. I'd ignorantly tell you the two cover options are orange and maroon, but then again I'm just an ignorant bloke; the official descriptions are "saffron" and "raspberry".
Hardware
The downside of the Flipout's compact square form-factor is that the phone is confined to having a small screen - a 2.8-inch touchscreen, to be precise. Unfortunately the 320 by 280-pixel display isn't particularly sharp either, although while this might detract from the device's aesthetics, it doesn't impact on usability at all.
On the positive side, the Flipout's keyboard is surprisingly functional. I had assumed the little keys, again kept small by the phone's form factor, would be a nightmare to use, especially with my fumbling giant man fingers. But this proved not to be the case, and the raised-profile keyboard, combined with the pre-emptive word selection application that appears on the touchscreen, made typing texts and emails relatively painless.
The Flipout has a perfectly adequate, if not overly sophisticated, 3.1 megapixel camera along with all the standard smartphone trappings such as GPS, Bluetooth and Wi-Fi connectivity, along with an FM radio.
Software
The Flipout runs Google's Android 2.1 operating system, which may not be state-of-the-art these days, but is still a perfectly functional OS that happily powers a full range of smartphone features on the device.
As they are with other recent Motorola smartphone, Flipout users are forced to sign up to a MotoBlur account when they start up the device.
But this is a relatively painless experience which has the advantage of opening up access to the phone's integrated social networking and email functions, contact syncing, online data backup, lost phone location function, and the increasingly important ability to remotely wipe personal data via a website if the device is lost or stolen.
Verdict
With a $399 phone-only price tag from Telecom, the Flipout isn't the cheapest Android 2.1 smartphone out there.
Buyers will need to be sold on the phone's cute and unique form factor before they open their purses to pay for one. I'm sure a number will. This is a device with good smartphone functionality, a handbag-friendly design, and that all-important changeable saffron or raspberry finish.
Motorola Flipout
$399 (Telecom, handset only)
SPECS
Screen: 2.8-inch, 320 x 280 pixel touchscreen
Operating system: Android 2.1
Camera: 3.1 megapixel
Connectivity: Bluetooth, Wi-Fi (802.11 b & g)
Processor: TI OMAP 3410 600MHz processor
Memory 512 MB RAM, 2GB microSD card
Other features: GPS, FM radio, 3.5mm headset jack, micro USB connector/charger