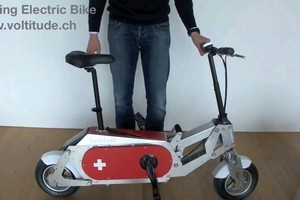 SWISS BIKE: The Swiss-made Voltitude electric bike easily folds up for storage. Unfolded it's about the size of a regular bicycle. It features small, wide wheels and a low centre of gravity, hydraulic disc brakes and rear-wheel drive. A Lithium-Polymer battery gives a range of up to 20 or 40 Km. At around 20 Kg without battery though it's a fairly hefty ride if you're pedalling. More at Voltitude and video on YouTube.
TEXT MAIL: Sweden and Denmark are trying out a system to do away with postage stamps. The user sends an SMS to a server which returns a code the user writes on the envelope. No stamp required. That sure beats queuing up at the Post Office just to buy a stamp. More at TheLocal.
POOL BOT: Remember summer, and the pool, and all the skimming and filtering and maintenance? The Solar Pool Skimmer gathers its energy from the sun. As it floats on the surface of the water it removes leaves, dust, organic material and debris and filters the water. An onboard computer helps it navigate in tricky spots. Now they just need a designer to make it look more interesting - perhaps models that look like cruise ships or aircraft carriers. More at SharperImage.
NOVELTY DINING: So you've made it to the top of the mountain, but there's no restaurant. What's up with that? Perhaps a pop-up restaurant would help. Park Associati and Electrolux are putting a semi-transparent moveable pavilion called The Cube in various unexpected and unusual locations around Europe for a few weeks at a time. The 140 square metre interior will seat 18 diners, while a 50 square metre terrace will offer stunning views. Europeans can expect to see The Cube appear atop monuments, on mountainsides and in other bizarre places. The cooking will be the true challenge. More at FrameMag.
BLOWING IN THE SOLAR WIND: NASA's Voyager 1 spacecraft left home back on 5 September 1977. Since then it's seen Jupiter and Saturn. Now it's traversing the heliosheath - the outer shell of a bubble around our solar system created by the solar wind, and soon to meet the interstellar wind. To check changes in the wind scientists had Voyager complete a roll manoeuvre, last performed 21 years ago. Signals took 16 hours to travel the 11 billion miles each way. Meanwhile, here on Earth we toss out electronics after just a few years. More at Voyager.
- Miraz Jordan knowit.co.nz