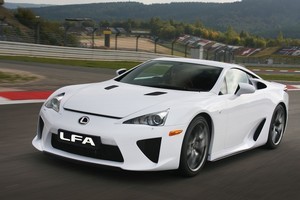 WOVEN CAR: The limited edition Lexus LFA is made from carbon fibre and plastic. It's slow to come off the assembly line - they produce one car per day. But it's how the car's made that's noteworthy. A circular loom, guided by lasers weaves carbon fibres into 3D parts that are later moulded and injected with resin. The woven materials are light and strong. Thank heaven they're woven and not knitted. That just wouldn't sound as impressive. More at New Scientist.
UNISCOOTER: The 9Kg electric Solowheel isn't exactly a unicycle, though it sort of is. It's a single wheel with footpegs, but no seat.
Step on, push off and let the self-balancing gyroscopes and 1000 Watt motor take you down the road. Or footpath. A rechargeable Lithium-ion battery keeps you going. It all looks a bit precarious to me. More here and video here.
SLIPPERY AS A PLANE: EasyJet has found a way to polish its planes so they suffer less friction and drag. That saves fuel and reduces CO2. The secret ingredient is tripleO, a nanotech polymer that cross links and bonds with the surface materials to create a perfectly smooth finish. TripleO can also be applied to cars and other vehicles. I imagine Olympic competitors will be looking closely at how it can help
them too. Aerodynamic details here.
WARNING BREATH: A new handheld breath sensor from Siemens uses a potassium permanganate catalyst to measure levels of nitrogen monoxide. An increase could indicate inflamed bronchial tubes and perhaps the onset of an asthma attack. Sufferers could have up to 24 hours warning of an imminent attack - enough time to take preventative medication. Every bit of extra warning helps save lives. Details here.
CREATIVE CAP: Australian researchers have found that stimulating the scalp can help with lateral thinking. Their 'thinking cap' applies low-level electrical pulses for 10 to 15 minutes to the anterior temporal lobes. Test subjects were three times as likely to solve complex problems in new ways while wearing the cap and for up to an hour afterwards. This has to be essential office equipment.