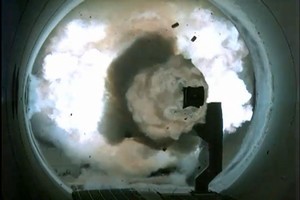 27 LEAGUE BULLETS: A bullet literally explodes from a gun, as a detonation propels the slug out of the barrel. On the other hand, a railgun accelerates a projectile along rails with an electromagnetic current. The US Navy broke world records recently with projectiles from a railgun travelling up to 2.3Km per second, transferring 33 megajoules of energy. The railgun's current range is 160Km, around the distance from Palmerston North to Wellington. It's the aim that really
counts. Details at Mashable and video on YouTube.
ENERGETIC VIRUS FOREST: The Tobacco Mosaic Virus can do something rather surprising: make Lithium Ion batteries last up to 10 times longer. University of Maryland scientists bound a nickel coated 'forest' of the virus to the metallic surface of a battery electrode increasing its surface area and the energy capacity of the battery.
Yup, viruses multiply. More at Physorg.
TURN RIGHT NOW: If you've ever shouted at your in-car GPS, you'll know that computers are immune to tone of voice. Two Oregon teenagers created a computer algorithm that figures out the emotional state of a speaker. It logs the frequencies and energies in a voice and matches 57 different audio features to a database for comparison. The creators claim 90% accuracy discriminating between happy and sad voices. Just wait till your computer's spinning beachball can speak: "I sense you're feeling angry and frustrated." Yes, that'll be very calming. More at NPR.
CRACK DOWN: Arizona State University gave a piece of plastic a nervous system, by embedding a fibre optic network carrying infrared light from a one-watt laser. If the fibre develops a crack lost light heats up the shape memory polymer around the crack. The plastic becomes tougher and prevents the crack from spreading. Then the polymer regains its original shape and strength. This technique could help prevent catastrophic failure in wind turbines, satellites, aircraft and Mars Rovers. Or in other words: pain and inflammation in plastic. More at ScienceMag.
DRINK! DRINK!: The i-dration smart water bottle takes its cue from a smartphone. Sensors in the bottle monitor external temperature, drinking frequency and quantity, then send this data via Bluetooth to a user's smartphone. The user enters data beforehand such as height, age and weight, while the phone monitors exercise levels via its inbuilt accelerometer and gyroscope. An app analyses all the data and signals the bottle to flash a blue light if the user needs to drink more. And the flipside could be a glass for alcoholic beverages that warns when to stop drinking. More at CambridgeConsultants.
- Miraz Jordan knowit.co.nz