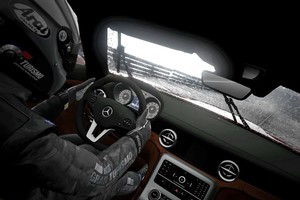 Kazunori Yamauchi has a well-deserved reputation as a man of vision. The creator of the holy grail of racing games and head of Polyphony Digital, he redefined a gaming genre, injecting a healthy dose of physics, engineering and some good old-fashioned automotive worship.
Gran Turismo turned the game world on its ear when it originally appeared on the first PlayStation.
The much-loved GT was the first "real" motorsport simulator for the common man - offering players not only a chance to race and tune dozens of different vehicles on the world's most famous tracks, but also teaching car control concepts and a bit of racecraft. Actual education? Ye gads. The technically savvy petrolhead sim grew in quality and complexity until the advent of the PlayStation 3 - and that's when somebody yanked the handbrake.
A full Gran Turismo game has, until now, not existed on the new console. So was it worth the wait?
Yes. And no. The game itself is incredibly impressive, building on the existing concept and improving the slick graphics hugely, adding head-tracking with the aid of an Eye camera, allowing 3D for those with flash new tellies and giving up to 16 players the chance to race each other online. But there are significant chinks in the armour.
The most irritating issue is the division between "premium" and "standard" cars. Whereas Yamauchi-san has always treated the cars as the superstars of the Gran Turismo series, GT5 introduces a B-list. While there are more than 1000 vehicles to choose from, only around 200 are considered premium and the rest are essentially re-rendered versions of old game models. Premium cars can be used in cockpit mode; they have high and low beam headlights, far superior damage modelling, and windscreen wipers. In short, they're better. If a game takes this long to get to market, I want everything to be good. And if I'm playing a racing game, I want to use the same view throughout.
But almost everything else is as you'd expect from Polyphony - the game is absolutely massive, with dozens of tracks and a huge number of race series and special events to contest, now including Nascar, karting, WRC and SuperGT.
The learning curve is nicely tempered with licence tests to keep skill commensurate with the type of road weaponry you're driving. Wading through these skill checks can be a bit tiresome for hardened GT veterans, but they are a necessary evil.
Cars can be modified to a massive degree, from the simple addition of a high-flow air filter and noisy exhaust system to limited slip differentials, monster turbochargers and fully adjustable suspension systems. The only glaring omission is brakes - quite useful when you've tweaked a road car to three times its standard power. Brake modifications do seem to be automatically applied, but there are no options for players themselves to alter the set-up. Rumour has it this will be addressed in an upcoming game patch.
Despite its flaws, Gran Turismo 5 is still by far and away the best motoring simulation that you'll see on the PlayStation, sharing the genre with a host of arcadey titles that are fast, furious and entertaining but lack real depth. It does have an arcade mode to suit those with a lighter mix of avgas and pump fuel in their veins, but is rightly aimed at serious car fans who are patient enough to play through its massive selection of events and enjoy the racing for what it is - sharp, accurate, gorgeous looking and incredibly fast. Oh, and carbon neutral.
Rating: 4/5
Classification: PlayStation 3
Rated: G
Verdict: Gran Turismo 5 is far from perfect, but it's finally here, and is still virtual petrolhead heaven.
-TimeOut