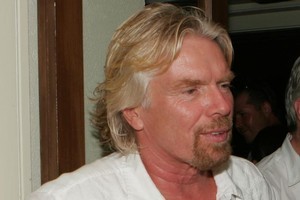 British billionaire Richard Branson has unveiled a magazine designed for Apple's iPad, taking on News Corp's Rupert Murdoch in the market for tablet-device publications.
Branson said the monthly magazine, called Project, will cover entertainment, design, technology and entrepreneurs.
Available now, it costs US$2.99 ($4) a month in Apple's app store.
Branson, founder of Virgin Group, is the first to get a publication designed specifically for the iPad off the ground.
News Corp is creating a subscription news product for the iPad called the Daily that will cover national general interest news, according to two sources.
The New York-based company plans to introduce the US$1-a-week product in the US in the first quarter, the sources said.
"This is not a battle. It's not a war," Branson said. "It's about the future of publishing."
The product "looks like a style magazine and acts like a website", according to Branson's Virgin company, and has been created with British publisher Seven Squared.
Project is headed by Branson's 29-year-old daughter, Holly Branson, who is special projects manager at Virgin Group, and editor-in-chief Anthony Noguera, former editor of FHM in Britain and Emap East.
"If you're the first mover in a new area and do it with great panache and style, it does give you an advantage," Branson said. "The future will be on devices like the iPad."
The first cover features actor Jeff Bridges, who starred in Crazy Heart and The Big Lebowski.
It first appears like a traditional print magazine cover with a photo of Bridges and a column listing the issue's articles. Then the photo morphs into video and sound of Bridges standing on the shore with waves in the background and the article's text running over the picture to one side.
The magazine will have editions available in Britain, the US and Canada with the same content and geographic-specific advertising. Initial advertisers include Ford UK, Lexus, American Express, Panasonic, Ford Canada and Kronenbourg 1664. Ads are interactive with the sounds of a car engine revving and photos of the vehicle that can be manipulated to see different angles.
Project marks Virgin's re-emergence into the publishing market. In 1966, when Branson was 16, he set up the magazine Student.
Media companies such as News Corp are looking to revenue from iPad subscriptions and website pay walls to support their publishing efforts.
Murdoch last month said The Daily would need 800,000 subscribers.
"We are not similar," said Noguera. "They're a daily newspaper. We are effectively a monthly style-and-culture magazine. We wish them nothing but luck."
Branson said if the press wanted to call it a battle, then it was one based on quality, and Project would prevail over Murdoch's venture.
- Bloomberg