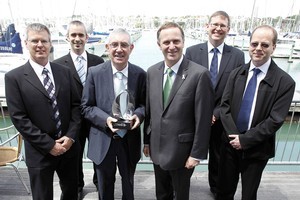 A team of Victoria University researchers has won New Zealand's most valuable science prize for developing technology that is earning millions of dollars.
The 2010 Prime Minister's Science Prize was awarded to the magnetic resonance innovation team led by Professor Sir Paul Callaghan in Wellington.
It was one of five prizes worth $1 million presented in Auckland today.
The team members come from science and engineering disciplines and their initial work was at Massey University before they moved to Victoria in Wellington.
Prof Callaghan's team also includes Dr Robin Dykstra, senior lecturer in the School of Engineering and Computer Science, Dr Mark Hunter, research fellow in the School of Chemical and Physical Science, Dr Andrew Coy, a physicist and chief executive officer of the Wellington technology company Magritek, and Dr Craig Eccles, a physicist and chief technology officer at Magritek.
The team receives $500,000, of which $400,000 is for more research.
Prof Callaghan began researching magnetic resonance (MR) as a probe of soft matter more than 35 years ago and is now considered to be a world expert in some areas of MR research.
Discoveries by his team are widely used in medical magnetic resonance imaging (MRI) and materials science.
They have led to new imaging methods and research techniques and are opening up opportunities to use MR methods in agricultural and industrial applications. Innovations from the team are also being used to research climate change in Antarctica.
Prof Callaghan, who has received many honours and awards during his career, said he was especially proud to have been awarded the prize and being recognised by his own country.
Other prize winners
* Auckland scientist, Donna Rose Addis, 32, a neuroscientist and senior lecturer in psychology at the University of Auckland. She is leading a new field of international research, which could result in therapies for brain diseases such as Alzheimer's. She received $50,000 of the $200,000 prize for her research into how the brain stores and retrieves memories. She is able to use the remaining $150,000 to support her on-going research;
* Auckland secondary school teacher Steve Martin, of Howick College, who has transformed the teaching of junior science by using new technology to create virtual science lessons to encourage students to think for themselves, learn at their own pace and use new technology, which he said tricked them into learning by having fun. He won the Prime Minister's Science Teacher Prize worth $150,000. He will get $50,000 with the balance going to Howick College;
* Southland teenager Bailey Lovett, 17, won the Future Scientist Prize for research into water quality in the Riverton/Aparima area, west of Invercargill. She collected a $50,000 scholarship to help pay for her tertiary studies. Her research tracked faecal contamination levels in mussels and cockles to gauge water quality after periods of high rainfall or flooding. Her investigations showed that levels of contamination were higher and lasted for longer than previously thought and have resulted in Environment Southland extending the length of time people are advised to wait before collecting shellfish after heavy rain; and
* Dr Cornel de Ronde won the Media Communication Prize for which he will get $50,000, with another $50,000 allocated for developing his science media communication skills. The media communication prize was awarded to a practising scientist to encourage effective communication and inspire future scientists and connect New Zealanders to the importance of science. Dr de Ronde, a marine geologist, has been studying around 150 submarine volcanoes and said his passion for the discoveries to be made in one of the most remote places on Earth has motivated him to become a good communicator.
- NZPA