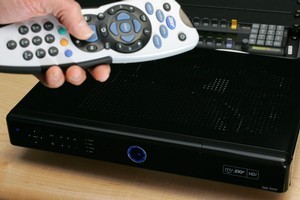 The way Kiwis watch TV shows is about to undergo a fundamental and dramatic change.
Sky TV is making its long-awaited pay into the online space with a combination of television shows and movies.
Featuring five live news and sports video streaming channels (including range from Sky News to Sky Sport 1,2 and 3), the initial roll-out of iSky will also feature 20 catch-up channels of content from its Sky TV channels.
The launch is great news for consumers, in that Sky TV's rich pool of sports, news and entertainment content will initially be available over broadband on both PCs and Macs, with other devices expected to be supported in the near future.
At its launch there will be 50+ movies from Sony, over 125 from Disney and within 6 months the number of available downloadable movies is expected to swell to over 1,500 titles.
Movies will be available for $6.99 per title whilst Sky subscribers with will have access to pay-per-view TV shows for $2.99.
iSky's launch is also well timed, with new copyright laws soon to come into force. Increasingly easy access to non-copyright infringing content could potentially see online piracy levels decline.
The news isn't so good for employers, as employee productivity takes a hit with staff watching TV shows on work PCs, clogging corporate computer networks rather than engaging in productive activities.
Based on this it is likely many employers will seek to block work network access to iSky. TVNZ's on-demand service is also expected to take a hit as viewers migrate to Sky's rich sport and news content. Movies on demand are expected to deliver a similar blow to video rental outlets.
nzherald.co.nz caught up with Richard Last, Sky TV's director of sports content and new media to pick his brains on iSky.
NZH: What drove Sky to develop iSky?
RL: "We did focus groups with MySky owners and they really like MySky, but wanted more... at the same time, broadband speeds got better and the number of connected homes has grown plus the Government's Ultra Fast Broadband is coming, all of which makes iSky more and more viable"
NZH: So where to from here with iSky?
RL: "The number of platforms you'll be able to watch iSky on is set to increase to cover the iPad, iPhone, Android phones, internet Connected TVs, as well as games consoles such as the Xbox 360 and the PlayStation 3. Ideally we want to be the first place people come to get content be it via satellite or the internet "
NZH: Will iSky be accessible to kiwis living overseas?
RL "No iSky will only be accessible within New Zealand"
NZH: So other than watching TV shows and movies, will there be other stuff iSky can do?
RL: "People want recommendations and applications and that can be done using broadband and the internet and consumers will also be able to access content from wherever they want. iSky will also offer remote recording scheduling for MySky, the ability to check your sky account balance or upgrade your sky package"
NZH: SO what quality will iSky be available in?
RL: "We'll stream video in 300Kbps, 700Kbps, 1200Kbps and the iSky authentication process will automatically decide what the optimal quality setting is depending on the speed of your connection and the type of device you're accessing iSky from"
NZH: So what's missing from iSky at the moment?
RL: "At the moment we have 20 channels but more will be added"
NZH: So what will future versions of iSky look like?
RL: "the next Release of iSky will have more capabilities and some content will also be available to non-Sky subscribers"
NZH: How much does it cost?
RL: "The 20 channel Catch Up service (375 catch up shows including PRIME) plus SKY News and CNN News live streaming channels will be free to all Sky subscribers.
"Sky Sport subscribers will have access to 80+ Sports highlights packages per month and if they have Multiroom as well, they, will also be able to access SKY Sport 1, 2 and 3 as live streaming channels.
"In addition, Sky Movie subscribers will be able to access 50 + movies per month refreshed on a rolling basis.
"Through the iSky Store, New release movies will be $6.99, Older titles will be $4.99, pay per view TV episodes are $2.99 per episode"
NZH: And when will iSky launch?
RL: "We expect it'll be here in Early December"