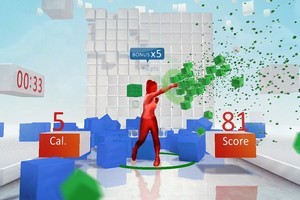 Matt Greenop gets in a lather over Kinect, Microsoft's newcontroller-free games system.
When Nintendo launched its motion-sensing Wii games console, it opened up a brave new world for game producers. Suddenly people who couldn't reconcile pushing a tiny joystick to manipulate something on a TV screen found a way to get their heads around the concept. Old folks homes across the United States started running Wii sessions to get their residents up and moving. Gyms turned the Wii Fit training software into classes for the perennially pudgy and Nintendo was on to a winner.
But even with its ability to translate jiggling of its "Wiimote" controller into gameplay, there were still buttons to be pushed. And still there are people who can no more use a game controller than build a particle accelerator in the back shed.
Sony has since launched a device along similar lines to Wii's control system, called Move, for its PlayStation 3 console. It looks like a black wand with a glowing ball on top, and delivers a controller far more advanced and accurate than Nintendo's.
Everything changed this week though, as software behemoth Microsoft launched a new gaming system, called Kinect, which requires no controller at all.
The device itself is a slim black rectangular box, containing a camera, depth sensor and microphone array that literally maps players' movements during games, works as a high-definition webcam for video chat with friends and navigates Xbox menus. It doesn't require a massive amount of room to play, either, about 1.8m back from the television is plenty of space for a single player, to play with a friend needs about a metre more.
To interact with Kinect players simply follow onscreen action - kick your leg to kick a ball, swing your fist to hit something, jump in the air to clear and obstacle. Menus can be navigated by turning through pages like you are reading a book, and selecting items simply involves holding your hand over the onscreen "button" for a few seconds.
Frankly, it couldn't be much easier to play. And this is exactly how Microsoft will take over the family party game market. Bringing a second player into a game is as simple as walking into the game space - the Kinect unit sees the new player and asks if they want to play. No second controller to set up, no buttons for the player to learn.
And the stack of launch games for Kinect backs this up. While hardcore gamers have little to celebrate with these titles, things like Kinect Adventures (which comes bundled with the $229 device) put players in scenarios including an underwater glass box that's under assault from grumpy fish - putting hands and feet over cracks stops leaks and wins the game. A series of high-energy river raft rides see players - it's best with two - leaning their bodies to control the raft, jumping and ducking to hit or miss obstacles. This is not videogaming for the sedentary player - almost all Kinect titles leave you gasping for breath and with a good sweat on by the end. The 15-odd games on the launch list - with plenty more promised in coming months - include a Harry Potter game, the beat-'em-up title Fighters Uncaged, sports games collections that include boxing, bowling and a very basic version of football. There's the overly cute Kinectimals, which lets kids (or easily amused grown-ups) interact with tiger and other big cat cubs, throwing balls, playing jump rope, or simply giving them a scratch behind the ear - they even respond to voice commands.
Getting players off the couch was exactly what made the Wii an attractive option for parents who didn't want the kids festering in front of television screens - or wanted to get involved in gaming themselves.
Exercise and weight-loss enthusiasts who were catered to with Wii Fit - which requires a "balance board" and controller - can now choose between the very impressive and complete workout programme Your Shape from Ubisoft, sweat their way through Zumba or even take on the goal-setting, hard-charging format of the hugely successful reality show The Biggest Loser.
Just on pre-orders, retailers have already reported a run on Kinect - it's looks likely to be the "must-have" gadget gift this year, while the core game market are blasting their way through Cold War blockbuster Call of Duty: Black Ops - while sitting down.
The family-friendly, and extremely active games - and the fact that literally anyone with arms, legs and half a brain can play them - should mean the days of Dad being beaten by button-savvy little Johnny are surely over.
Quick look: launch games
Kinect Adventures
Rating: 3/5
Free with the device, this is a very entertaining party game that includes river rafting and other high-energy activities in an arcade format. It even takes your photo during gameplay - but be warned, the results are often not pretty.
Kinect Joyride
Rating: 2/5
Race game fans, this will annoy you with its overly basic controls and the fact you feel a bit silly pretending to hold a steering wheel, but others will get a kick out of being able to jump, drift and boost their way through wild fantasy tracks.
Kinect Sports
Rating: 3/5
Basic sports title more for a group laugh than a serious athletic outing - includes sprinting and hurdles, surprisingly accurate boxing, ten pin bowling and a very Wii-like version of soccer.
Your Shape
Rating: 5/5
Fitness game that includes everything from yoga and t'ai chi to intense workouts under the watchful eye of a
pushy personal trainer. Reads body movements so accurately it can tell you when your downward dog is actually a pig. Very impressive.