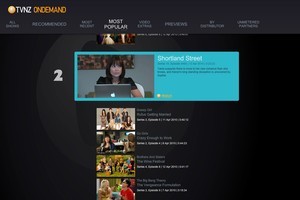 With Sky TV soon to launch iSky, its online portal with streaming content, TVNZ is wasting no time enhancing its OnDemand service.
It will begin offering a high quality 1500kbps streaming option, alongside the existing 700kbps and 300kbps options already available.
Adding greater bandwidth to video streaming means higher quality (and less pixelated) streaming video - and the significance of this isn't wasted on TVNZ.
Already supported on the PlayStation 3 and most PC/Mac web browsers, OnDemand was the first online TV streaming service to launch in New Zealand.
It has a solid base of followers that Sky hopes to lure over to iSky via its richer content and online integration with the iSky PVR (such as scheduling remote recordings etc).
The barriers to watching TV shows from online sources are getting lower all the time as the number of New Zealand households with high speed broadband grows and data allowances increase.
For broadcasters such as SkyTV, TVNZ and TV3 the move to online television and other video content has potentially serious issues as viewers migrate online and advertising dollars shrink.
Overseas TV are often illegally downloaded using peer-to-peer services like BitTorrent or streamed using proxy applications like IP Hider from geo-blocked services such as Hulu.
Where the current crop of online TV services in New Zealand are all about catching shows you've missed, services such as Hulu have a significantly deeper catalogue of content and frequently stream shows that are yet to screen in New Zealand.