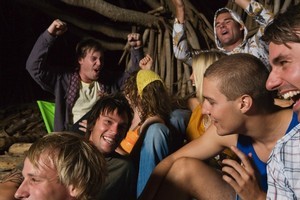 Defiant students are pushing ahead with plans for a huge party on Auckland's North Shore, with some teenagers saying, "take a nail gun in case the cops come" and others calling on party-goers to riot if officers try to shut it down.
The party - planned for November 27 at Castor Bay beach - has already attracted more than 2000 Facebook users who say they will attend, while hundreds of others say they are undecided if they'll go.
At a party in the same location at the weekend rampaging teenagers smashed bottles on the road, damaged letterboxes and used fuel to ignite a beach bonfire.
Concerned police will meet North Shore principals on Friday to discuss the party and their plan to stop a repeat of last weekend's violence.
On the Facebook page, posters do not appear to care about the residents of the area, the police, or the illegality of their actions, although some of their statements inciting violence were condemned by others who posted messages warning against the behaviour.
Yesterday afternoon Clint Lewis posted, "take some nail guns in case the cops come". When he is challenged for the comment he replies he is not "mentally challenged" and it was only a "harmless comment".
Another, Joyce Pavish, advised "riot if the popo turn up". Popo is American slang for a police officer.
The parties' notoriety wasn't lost on some. "Can't wait for the news the next day ... And the night before ... like a full on warning to everybody in the area not to leave there [sic] house," wrote Jack Finlay.
Adam Ellington said: "We will win. Cops won't win."
On the Facebook site the party organiser, Ash Hilton, described it as a "small gathering ... nothing big".
North Shore Police spokesman Kevin Loughlin last night wouldn't say what, if any, preparation had been made for the weekend.
Police have previously said they would monitor social media and wouldn't tolerate any disorder.
Many of those going to the party are listed as attending Rangitoto College, the largest high school in the country.
Rangitoto principal David Hodge said he didn't want to speak for his colleagues at other schools but he was sure they would fully support police.
He told the Herald that police accepted schools couldn't take direct action but they would provide information to officers where they could.
It appeared it was being organised by an older age-group who had already left school. It was "fair to assume" the first party was to mark the end of the formal school year and the new one was to celebrate the end of exams.
The principal said police were concerned the parties would spread over the summer. "They're keen to do whatever they can to nip it in the bud."
He expected they would elaborate more at Friday's meeting but in the meantime he had offered to communicate with parents through their website and newsletters.
However, parents were ultimately accountable for making sure their teens behaved responsibly, he said.
"We can't act on this unless it can be shown that a beach party that happens at 12am at night has a direct impact on what happens at school.
"Parents are involved 24 hours a day. We will do what we can but what we can do is limited."
Simon Young, director of a social media consultancy, said sites like Facebook had given word-of-mouth invitations "more legs".
With the example of a party, he said social media had made the event an "object that people could point to or pass on rather than just an idea" because it connected a big group of people instantly.
- Additional reporting Hayden Donnell