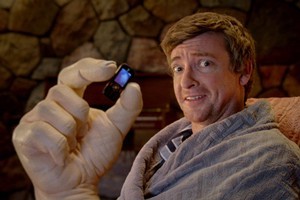 Mobile operator 2degrees is predicting the start of the "smartphone wars" as it launches two new handsets that cost less than $500 and promises monthly plan innovations in the run up to Christmas.
The smartphone revolution is gaining momentum, with cheaper phones powered by the Google Android operating system tipped as the hot item for Christmas.
So far only about 11 per cent of Kiwi mobile phone users have smartphones - devices such as the iPhone or BlackBerry that are more like a hand-held computer than a phone - so there is plenty of room for growth, say telecommunications companies.
A report from international IT research house Gartner out this week shows worldwide smartphone sales grew 96 per cent in the third quarter, compared with the same period last year.
It said Android was now the second-most popular mobile operating system in the world with 25 per cent of the market, second to Nokia's Symbian and ahead of the Apple iPhone system.
Last month, 2degrees launched the Android-powered IDEOS phone for $379.
Next week it launches the LG Optimus P500, priced at less than $500, followed by the IDEOS X5, the upgraded version of its first Android offer.
"You've got a lot of people out there on superphones at the moment spending around about $1000. This will offer a much better bang for your buck," said chief sales and marketing officer Larry Moore.
2degrees expects that more than half of phones sold in New Zealand next year will be smartphones, and says the company is committed to bringing down the cost of smartphones and mobile internet usage.
"One of the things that has been a break on [the growth] here in New Zealand has been the price of the handsets and the price of mobile data," he said. "The smartphones that are in the market at the moment are ... only affordable if you take them on a 24-month term."
2degrees offered cost-effective data packs such as 50MB of data for $6 and 1GB of data for $20, he said. The 1GB pack was only available in the main centres but the company was seeing customers top that up with the $6 offer if they moved outside those areas.
Christmas would be all about the smartphone and Vodafone was offering what it believed was the best range, spokesman Matthew East said.
It had the On Account TXTer, a 24-month plan for $40.80 per month with a free Vodafone 845 Android smartphone and three months' free mobile internet at 100MB/month. The data cost $10 a month thereafter.
The same phone could be purchased on its own for $199, which was the cheapest Android mobile in the the country, he said.
For those who wanted a high-end smartphone, Vodafone had the 24-month Smart 3 plan for $81.75 which included a choice between two Ericsson handsets, 250MB of data and a bonus 3GB of data for a limited time.
Telecom spokeswoman Carly Morris said Android was increasingly becoming the connected device operating system of the future.
It was an open system, meaning a range of cellphone manufacturers were able to produce their own Android handsets. "What this means for the customer is that there is an Android for everyone."
Telecom has a range of eight Android mobiles on sale, priced from $399 to $999.
However, it also has an offer on the Motorola Flipout at $199 with a 24-month plan and customers can add Telecom's special Christmas offer of doubling their data time to 1GB/month. Including the double offer, the plan would cost $89.06/month.
Shane Bradley, director of digital voucher company GrabOne, said these kinds of deals brought smartphones to the masses.
"When they're bringing the phones down to the price points that they are, it means you don't need to go and spend some money to get an old-style phone which just makes phone calls and texts.
"Everyone can use the smartphone eventually."
Studies showed as soon as people started getting a decent experience on a phone they used a lot more data, he said.