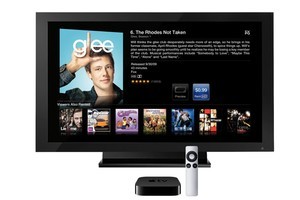 Last week I wrote about the Apple TV, which is a great device for a good price - but it's absolutely begging for content. There were around 1700 films for hire or rent and now, just a few days later, I notice that in the iTunes Store under Movies>Documentary there are 32 documentaries available - either Apple is adding to the library at a good rate or the selection is different to that direct from the Apple TV, as last week there were only 13.
Under Independent, though: 15 ... last week, 13.
Reader Rob Stutton emailed about content: "I returned to NZ last year after three years in the States and I maintain a US credit card (with a US postal address) and a US iTunes' account and so I benefit for what seems to be a huge selection of movies in iTunes. To be able to avail yourself of the US store, you need a credit card with a US address.
"You can easily take a look at the US selection (although you'll be unable to buy or rent them) by going to the iTunes Store (in iTunes) and changing the country - there is a link at the bottom of the store page for doing this.
Now you can see exactly what is available to US customers."
As Rob points out, you can change stores by scrolling to the bottom of your iTunes' Store window and clicking on the round flag logo at extreme bottom right.
If you do, under just the New and Noteworthy section of the US Documentary category (it's so big it's divided into sections!) there are around 100 to choose from.
Click on 'Show all' and the whole category is divided up alphabetically. Just A-B holds 159.
Independent, well - there isn't even that category in the US Store, for some reason.
Strutton added "I also discovered recently that iTunes Essentials are unavailable in NZ. These are Apple created virtual albums (essentially a playlist of songs) that you can buy from iTunes. Just prior to the recent Paul Weller visit to Auckland, I realised all of my Paul Weller collection was on vinyl and so I was looking to buy some digital versions of his hits (or rather, to buy them again) and since I was logged in to iTunes with my US ID I was able to find and buy an iTunes Essential 'album' which contained a good selection of Paul Weller's best from about three different actual albums. I then logged in using my NZ ID and searched for Paul Weller again - looking for the iTunes Essentials (I was interested to see the NZD price) but to no avail. I then tried to find any iTunes Essentials on the NZ store and could find none."
Which all goes to outline the vastly unrealised promise that Apple TV holds for this lonely little outpost of Western Civilisation.
Rob reckons we get a raw deal from Apple on availability of content. "I'd love to know how much of the problem is down to the media companies (that own the content) and how much is Apple simply not (yet) negotiating the agreements or acquiring the content." I'd like to know that, too.
He concludes "I know that the content deals are regional and I recognise that this would be a huge pain for a global retailer like Apple. In today's connected society it seems that the media companies simply haven't kept pace. Regional distribution deals and region coding on DVDs and BluRays just seem crazy - and are for no other reason than ensuring that we (in NZ) pay more than our counterparts abroad."
However, we do now actually get a selection off books in the iBook Store on iPad, which will please many who bought iPads here as readers and then had nothing to read, despite Whitcoulls hinting at possible eBook sales.
You should have the app already; press the Store button at top left and you'll find dozens and dozens of freebies (mostly out-of-copyright classics).
If you're in a book, double tap along the bottom to get back to the iBooks interface.
It's actually a great study tool, at least if you're into history and/or classics, or old poetry and literature, because you can tap on a word, stretch out a selection, copy then paste into, say, Apple's Pages word processor app.
But where are the new books? I can't see any.
Plus Apple seems to have made it singularly difficult to actually get a book into the iBook store, so what seemed at first like a brilliant opportunity for independent and small publishers to make headway in the new world of electronic publishing is, so far, just a contract and licensing-fraught nightmare. It's supposedly possible from New Zealand as an individual ... if you have a US tax number.
Bloody hell. Australians have already been angered by the inaccessibility.
There's something called iTunes Connect that's supposed to allow this.
How you actually get an iTunes Connect ID is not clear (to me, anyway). Your Apple ID doesn't do it.
The site MacLife claims to have received an email from Apple outlining iTunes Connect, which would allow anyone to self-publish their work ... as long as it meets certain standards. Yeah, well, it's Apple.
These 'standards' are: ISBN numbers for all titles you intend to distribute. You must be able to deliver your book content in EPUB format, passing EpubCheck 1.0.5 (which you can do yourself in InDesign); it may contain no manifested files; you need a US tax ID and a valid iTunes Store account with a credit card.
Apple is also working with third party iBooks aggregators and recommend authors unfamiliar with the standards above go that route to get their material in the iBooks store - anyone heard of one in New Zealand? Do tell. (Before this new self-publishing functionality was implemented, independent writers had to receive an invitation code from the iBookstore.)
Filemaker all 'Go'
Apple's wholly owned subsidiary FileMaker does seem to manage to get it almost 100 per cent right. The Go app is a boon to commercial travellers, reps and anyone who needs extensive data access in a very portable form.
It's finding its feet here in NZ with developers like Foundation leveraging this great app. FileMaker Go operates either as a stand-alone database application on an iOS device and/or as a client of a FileMaker Server hosted solution. As a client, though, access is hamstrung by the vagaries of NZ 3G which makes real-time access a nice theory rather than a reliably-working reality.
So Auckland-based Foundation developed a PHP-based structure that allows FileMaker Server to host the solution files and then periodically do a bi-directional synchronisation between itself and a FileMaker Go client. Foundation's Matthew Roscoe says "The Go client utilises its ability to run files locally and then initiate the PHP-synch via the FileMaker web-viewer back to the FileMaker Server.
"The connection is irrelevant, as it is web-based. It will run over a local Wi-Fi or via 3G, and since it only does incremental updates back to the server, the data transfers will be minimised - but obviously that is dependent on the specific deployment. The whole process is controlled by the user of the Go client."
It's busy times at Foundation, who I have previously mentioned as having developed field data-gathering solutions for the UN in the Pacific deployed on Netbooks.
It's possible their solution could find use in other third-world style 3G environments. (Sucks to be Vodafone and Telecom NZ. Big country, small population.)
"We have several projects in production with iOS device components now and hope to close several more in the next few weeks and are getting several enquiries a week. The synching capability will really advance this because we've specifically built it to be as quick and easy to incorporate into solutions as we can make it."
Awesome.
- Mark Webster mac-nz.com