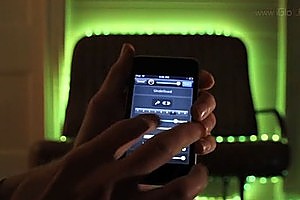 A few months ago I talked about Christchurch's Jade Corporation's foray into iPhone development with an in-house contest to develop apps. Successful teams could win iPhones. It was interesting because Jade, although long-established and with an international reputation, had never really dipped its toes into the world of Apple. Obviously, it was trying a little 'Think Different'.
It seems that thinking has had a longer term effect. Now Jade is keen to run an iPhone developer conference. The registration of interest page is now live, with some info about the conference. Check it out here.
You can also follow developments (ha ha) on Twitter - look for 'NZiDev'.
If you have an iPhone, a recent Auckland initiative gets you access to discounts straight from your pocket. Vouchermob is a free app that lets participating retailers offer specials direct to customers.
They can geolocate - if you're in a certain part of town, it can alert you to a special deal near you. You can mark favourites, follow certain retailers etc.
If you're a retailer, you can offer five deals a month for $10 a week, or go for a much bigger deal. You get comprehensive feedback on who's looking at your vouchers. All round, the service looks worth exploring and it's set to expand around the country and perhaps further afield.
In other NZ app development news, one reason I thought the iPad might succeed after it was first announced was as a music and lighting controller. Well, a NZ firm has created an app that controls a lighting rig, and this has caused excitement as far away as Gizmodo. Engadget likes the look of it, too.
iGloLEDset was created by Macfarlane Engel & Associates, which specialises in the development, market entry, and management of novel technologies.
The firm was involved with the development of the Snapr app, for example.
iGloLEDset is a lighting rig controlled with a realtime app on iPad, iPod touch or iPhone. It costs US$299 (just under $400 NZ). Stroke to change colours, trigger preset sequences, or wave it about ... looks amazing. The app itself is free.
Which brings us to ... iPad
I finally caved. I know many of you assume I run out and buy every Apple thing that comes out, but 1/ I really don't have that kind of income and 2/ I think really hard about any purchase I make.
I was late to get an iPhone, and I got an iPad only a couple of weeks ago. I recently presented on iPad to a group of SeniorNet members in Pakuranga, mostly PC users. (This was done in a voluntary capacity.)
But it made me consider why anyone would want an iPad - when I looked at one for a week several months ago, I concluded it was essentially a useless device that, once you have it, would most likely be in constant use. Which is a contradiction, yes I know.
This is still the case. It's hardly an essential item because it does not replace a Mac or laptop. And you can get email and do app stuff on an iPhone or iPod touch.
So it's hardly something I'd recommend as an essential item to someone living solely on a pension. But here are some reasons to get one, if you want some:
It is much more portable even than a MacBook, (but maybe as portable as the new, smaller 11.6-inch MacBook Air just on sale).
It's much easier to read than an iPhone or iPod touch, particularly if you have some vision problems.
It's actually great for reading magazines, and the NZ Herald app, I have to say, is a solid favourite in my house.
The iPad does make a really good reader. Wherever you are.
That noted, check out the lovely, free Flipboard app. It delivers your favourite websites as newspaper lookalikes, and does so impressively well.
An iPad is extremely handy to have around if you want to find a recipe in a hurry.
An app like Star Walk is impressive on an iPhone ($4.19), sure. But it's simply superb if you have the bigger iPad version ($6.19) on an iPad, in a wireless zone or anywhere on the 3G iPad.
Apple's is superb on an iPad controlling an Apple TV.
It's a brilliant displayer of photos. It works really well with Apple's MobileMe subscription service.
If you're into genealogy, and you have MacFamilyTree, get the free MacFamilyTree app (free) and sync it with the tree on your Mac. You end up with an instant tree viewer you can take anywhere.
Games ... nah. Kids like 'em. I just can't be bothered.
But OK, for a laugh, check out Talking Tom Cat for iPad. (This is free, there are other animals for $1.29 each, if you must.)
I swear, the words 'bum' and 'farty' never sounded so funny. Er, said the kids.
Also, Epic Citadel is well worth a look.
So yeah - it's great to have one.
- Mark Webster mac-nz.com