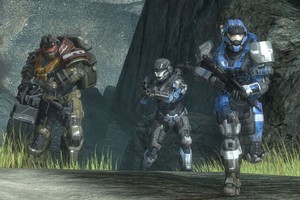 You've got to tread lightly when it comes to releasing prequels for cult franchises - just ask George Lucas.
Fortunately, Bungie didn't sell the much-loved Halo series short when producing its final game of the series before it's taken over by 343 Industries.
Reach jumps back to pre-Master Chief times, when Spartans ruled the roost. You start the eight-ish hour campaign mode as "Six" - the newest member of the Noble team of Spartans. After landing on the Earth-like Reach and discovering the Covenant have got there first, Noble Team must try to save the planet. As we well know, this doesn't work.
But that doesn't stop a solid campaign providing undoubtedly the best Halo outing yet, with a massive leap in graphic quality in everything from environments to vehicles and the main characters. Enemies are - as always - abundant, with the usual line-up of cannon-fodder Grunts, challenging Elites and the ever-nasty Hunters to deal with in the wide-open sandbox style battlefields.
Improvements to the game engine have made these battles more challenging, with faster and more agile enemies giving Reach a hint of Call of Duty - something that happens regularly throughout, especially in cut scenes.
While Spartan shields now regenerate when you can find somewhere quiet, it's necessary to hunt down health packs to get fully fighting fit. Some new armour abilities have been added - the coolest one being "hologram" where you can send a virtual you running across in front of enemies while you casually blow them to bits.
A couple of new concepts for Halo include a foray into space for a full-on zero gravity battle in "experimental" Saber ships - which was extremely entertaining and could easily have been stretched further - and flying woefully under-armed Avatar-like Falcon dual-rotor choppers around skyscrapers in a massive cityscape.
Bungie's online vision is obviously the overwhelming one, with completion of campaign mode followed by a prompt to get connected and play.
Several new modes have been added this time around, including Gruntpocalypse, a tweaked and sweet Firefight mode - and online matchmaking has been sorted to the point that it's quick and simple to find similarly-skilled players to fight with.
Halo's storyline, through the years, has been pivotal to its success. Assuming that everyone knows this story is a major faux pas - who are the Covenant, why are they so pissed off and why are they on Reach? These are questions that remain largely unanswered throughout - okay for Halo-heads, but noobs will be left scratching theirs.
Some of the AI gets a bit clunky at times - occasionally seeing others in your fireteam "forgetting" to drive vehicles and stopping in the middle of a battle - not useful.
Verdict: This is the best Halo yet, and while there are a few minor shortcomings, it is a worthy exit for Bungie - here's hoping 343 can keep it up, whatever the closely-guarded future of the franchise is.
Format: Xbox 360
Rated: R16