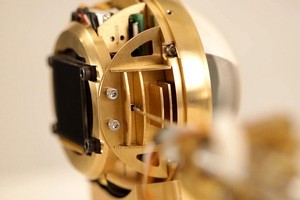 For those that remember their handheld plastic Tamagotchis fondly, digital pets are back - only this time they are more alive than ever.
Victoria University's newly developed Tardigotchi, featuring a living microorganism inside a plastic spherical casing, has won first prize at an international festival.
Senior lecturer in media Doug Easterly, graduate Tiago Rorke, and American Matt Kenyon from Penn State University created the work.
The Tardigotchi has a portable sphere, a docking station and software. The owner has to look after the microorganism - called a tardigrade - and virtual pet at the same time.
Tardigrades are microscopic animals with eight legs.
By pushing a button on the sphere, the owner can feed the virtual pet. This in turn literally feeds the tardigrade microorganism with a syringe. Once the tardigrade is fed, the virtual creature shows off its full belly in an animated sequence.
Sending an email to the virtual character triggers a real heat lamp on the sphere for the tardigrade, while the virtual character reclines and soaks up animated sun rays.
The Tardigotchi was awarded first prize in the digital language category at the 2010 Electronic Language International Festival (FILE) in Brazil.
"Tardigotchi raises interesting questions, such as whether interaction with an electronic device can lead to emotional attachment. It also serves as a reminder for the special place humans have in communing with other animals, perhaps equally for artificial ones," Mr Easterly said.
"There are a few established artists working with living things in the art world, but not many are working with microorganisms. When art and science intertwine, new territories and concepts can be explored."
- NZPA