A round-up of the latest technology news from around the globe.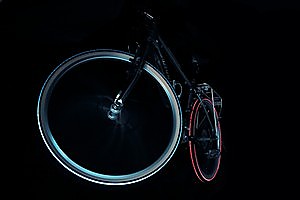 SEE ME RIDE: If you cycle on city roads it's all about being seen. Cyglo build high powered LED bulbs into the tread or wall of bike tyres. When the wheel turns you see a perfect ring of light. Bright idea.
DRIVE THROUGH BUS: Buses may add to the congestion on busy roads as they stop for passengers, and jam up cars behind them. A trial in Beijing will test a new concept: a 2 lane wide, double-decker bus. It's like a rolling bridge: passengers sit on the top while cars travel through below. Powered by electricity and solar energy, the bus holds more than 1,000 passengers and travels up to 60 kph. How about it, Auckland? More at ChinaHush.
WATCH WHERE YOU'RE GOING: It's such a pain having to actually look down at your GPS system. It means you can't watch where you're going. Now your troubles are over: GPS built in to spectacle frames. The glasses detect which way you're facing, then LEDs in the frame light up to guide you.
What, no celebrity voice on your ear? Details at DigInfo and a video on YouTube.
TOXIC TVs: Old televisions and computers are still being illicitly exported from Europe. Workers, often children, are frequently poisoned at makeshift recycling plants in Africa and Asia because of toxic heavy metals and hazardous chemicals in the e-waste. It's time for a change. Details at BBC.
WIND UP WATER: A fully working prototype used UV light to sterilise a specially constructed bottle of water in 2 minutes. A custom filter in the bottle removes impurities, then a wind-up Ultra Violet bulb completes the job. Tests show the bottle sterilises 99.9% of bacteria and viruses - especially important in the developing world. No bacteria, sure, but what about heavy metals? More at JamesDysonAward.
- Miraz Jordan knowit.co.nz.