A round-up of the latest technology news from around the globe.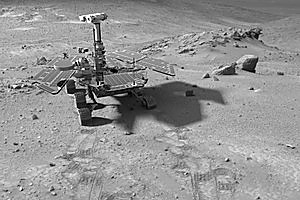 CHATTY BRIDGE: 90,000 vehicles use the 10 lane I-35W bridge in Minneapolis every day. To monitor movement, corrosion, stress, and possible terrorist activity the bridge contains 323 high-tech sensors. Data goes to a nearby computer so engineers can watch out for potential problems. "I'm feeling a little worn today." Details at CNN.
CHEQUE OUT: Fraudulent cheques sound like an old problem, but criminals recently revived the practise. They stole 200,000 images of cheques from online storage then used them as templates for fake cheques worth US$9 million. People still use cheques?
DEBLUR DEVICE: Microsoft is working on a hardware attachment for consumer cameras that could automatically deblur images. The technique uses inexpensive gyroscopes and accelerometers to counteract camera motion.
I could definitely use this. Read more at Microsoft.
LOW SPIRITS: Spirit, NASA's six-year-old Mars Rover, may have gone to sleep for the last time. A particularly cold winter may have drained the battery. 6 years isn't bad for a 3 month mission! Details at Discovery.
YOU DON'T SAY: The BlindType system for touchscreen typing, as on an iPhone, predicts what the user intended to type. It copes with really sloppy typing and figures out what you intended rather than what you actually typed, way beyond ordinary predictive text. Very mpressive. Details at SingularityHub and video on YouTube.
- Miraz Jordan knowit.co.nz