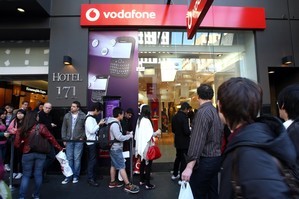 Apple's eagerly awaited iPhone 4 was expected to have sold out yesterday and Vodafone can't say when the next shipment will arrive.
Hundreds of people queued for hours trying to get their hands on the iPhone 4 that went on sale at midday.
The phones were expected to be available earlier but customers, some of whom started queuing at dawn, were told their arrival had been delayed.
By late morning Vodafone said the smartphones would go on sale, on account only, at selected stores.
Vodafone spokesman Paul Brislen told the Weekend Herald he couldn't discuss the reasons for the delay, how many were eventually sold yesterday or when more could be expected in stores.
Another shipment would arrive "very soon", he said.
More than 150 people waited along Auckland's Queen St for a chance to buy iPhone 4, unaware there were only 56 in the store.
There were similar scenes in Newmarket and Wellington's Lambton Quay.
Among those waiting in Queen St was Karleen Robinson. She got her father, Graham Sallen, to stand in line for her while she drove into the central city from work in Albany.
Mr Sallen was about 11th in line and was nervous she wouldn't get there in time.
"I don't know anything about them. I have a phone but I don't know how to text," he said.
It wasn't his only kind act of the morning, though. After Ms Robinson arrived he went and put money in the parking meter for Chris Wiggins, 18, who was just in front of them.
The 16GB model is free on the most expensive monthly plan and $619 on the cheapest. Prices for the 32GB model range from $179 to $799.
The phone will be available from $1099 without a plan. Apple had kept prospective buyers in the dark about they would be able to buy the iPhone, saying it would be available at selected retailers but refusing to name them.
- Additional reporting by NZPA