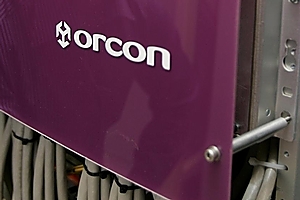 Mobile users now have more options as state-owned telco Orcon enters the market.
Orcon is the latest player to offer its own mobile service by buying wholesale access from a mobile operator. The move comes more than three years after it first announced its ambitions.
Piggy-backing on Vodafone's network, Orcon today launches four post-paid plans with per-minute pricing starting at 69c, dropping to 38c for bigger-spending customers.
Mobile data will cost $49.95 a month for one gigabyte or a casual daily rate of $1 for 10 megabytes.
Chief executive Scott Bartlett said Orcon's pricing would be competitive but not the cheapest. It chose to differ on service and the lack of contracts.
Customers will pay their mobile bills on a monthly basis but will not be locked in for a fixed period.
"We want customers, we don't want prisoners," said Bartlett. Pre-paid plans were possible before Christmas.
Orcon first flagged its intention to offer mobile services in 2006, signing an agreement with Vodafone and saying it would have an offer in the market by the end of the following year.
Since then, the mobile market has seen the arrival of network operator 2degrees and more than half a dozen mobile wholesalers, known as mobile virtual network operators (MVNOs).
Bartlett said the arrival of another network operator, and Telecom moving to the same mobile technology as 2degrees and Vodafone, had created a vibrant wholesale market.
Bartlett hinted that the terms and conditions of its wholesale agreement had improved to the point it did not need to check off plans and pricing with Vodafone.
"For those MVNOs that can gain scale then they'll be able to negotiate on behalf of their customers an even better set of terms and become even more competitive."
Craigs Investment Partners telecommunications analyst Geoff Zame said the economics of an MVNO depended on what commercial arrangements were struck with the operator.
"The margins are obviously lower because it's not an infrastructure play, it's just simply a deeper form of wholesale."
Zame said it was a positive move for Vodafone, which has struck six of the eight MVNO deals in the market, because it increased traffic and returns on its network.
Bartlett said Orcon aimed to have a 1 per cent market share within two years, growing that to 5 per cent.
"Honestly, we're never going to be 20 per cent of this market in mobile, it's not going to happen.
"One per cent of this market is 50,000 mobile connections, so we'd be really thrilled with that in two years."
Data from industry analysts IDC show Orcon had 0.7 per cent of the share of total telecommunications revenue this time last year.
This was down slightly on the 1 per cent share of revenue it had at the same time in 2007.
The company has targeted revenue to grow 20 per cent over the next year, from $52.2 million in the 2010 financial year to $62.3 million in 2011.
With the current accounts still yet to be tabled in Parliament, Bartlett could not reveal this year's financials but said the company "smashed" its targets with well over 40 per cent revenue growth.
On the back of its Iggy Pop-fronted campaign, Bartlett said market share in Auckland now approaches 20 per cent, but a lot of growth had come from North Island regional cities.
Cutting-edge sim cards
New mobile player Orcon will be supplying micro-SIMs compatible with the latest Apple iPhone and new iPads but will rely on cutting its own until stocks arrive later in the year.
The micro-SIM cards, which store subscriber details needed to connect to a mobile network, for the latest Apple gadgets are half the size of the current mobile SIM.
"We will cut existing SIMs to work until our micros arrived later in the year," said Orcon chief executive Scott Bartlett.
The internet abounds with do-it-yourself options for cutting down regular SIMs to fit the new devices.
Bartlett said Orcon would not be selling Apple gadgets, instead launching with two basic Nokia phones, the Nokia E71 and HTC's HD Mini with more added to the line-up later in the year.
It would offer subsidies for customers on its higher-end plans to buy from its range or they could bring their own phone.